Disease Diagnosis of "Rubber Tree"
Early detection and spread prevention of diseases of"Rubber tree"
Para rubber tree: A predominant source of natural rubber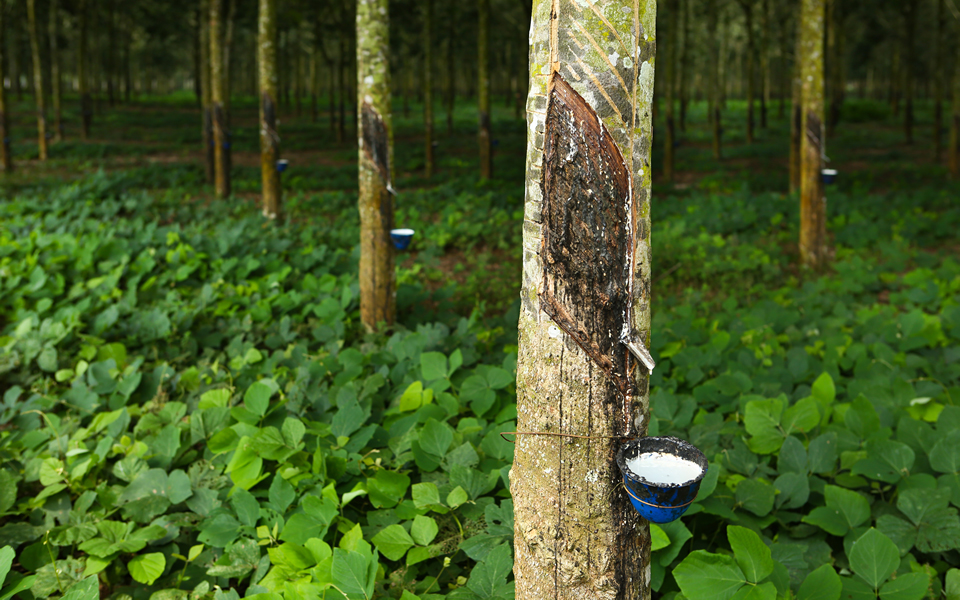 The para rubber tree is originated in Brazil. Its latex extracted from the tree's trunk is a major source of natural rubber, which is the primary material in tires. Natural rubber is produced by coagulating/drying latex extracted from para rubber trees for five to 25 years after their plantation. Currently, most natural rubber is produced from para rubber trees in Southeast Asia and para rubber trees are expected to remain the primary source of natural rubber in the future.
Serious diseases of para rubber trees

While para rubber trees originated in Brazil, they have suffered devastating damage there by a disease called SALB (South American Leaf Blight) in the early 20th century and they have hardly been planted in Brazil since then.
In Southeast Asia where over 90% of the world's para rubber tree plantations are concentrated now, the damage caused by the white root rot disease (*1) is getting worse. As traditional diagnosis of the disease relies on visual inspection of under-soil roots, there has been a high risk of late detection and false diagnosis, which results in the spread of the disease.
*1

A disease caused by a plant pathogen Rigidoporus microporus (filamentous fungi). It kills trees by infecting and rotting their roots and it is difficult to detect in the early stage of infection. Currently there is no fundamental solution against the disease and practical responses are excision or chemical treatment of affected parts.
Development of various diagnosis techniques of para rubber trees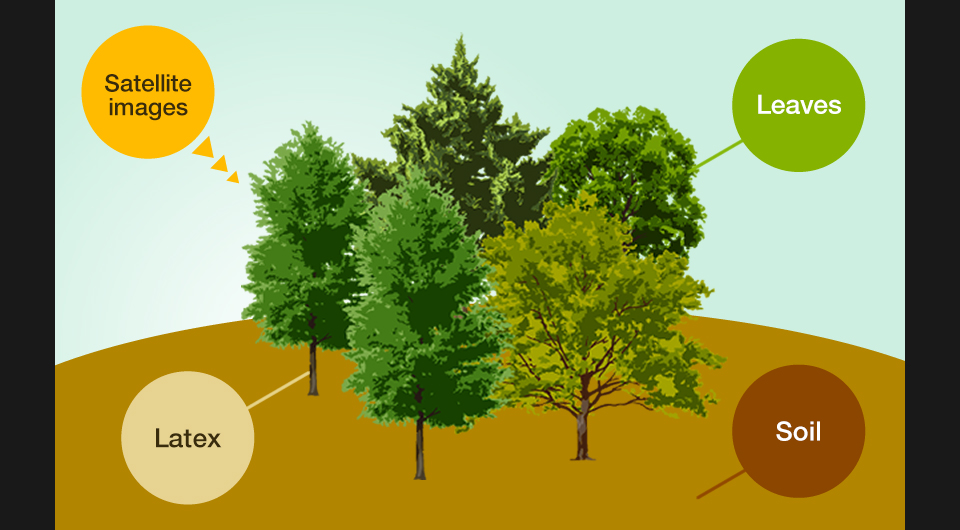 Diagnosis by satellite image analysis

Diagnosis by leaf surface spectrum (colors) and temperatures

Diagnosis by latex component analysis

DNA-based detection of pathogen in soil
In order to preserve para rubber trees and secure stable supplies of natural rubber, the Bridgestone Group has developed diagnosis techniques for early detection of the disease. These techniques have been developed through collaboration with the Agency for the Assessment and Application of Technology (Indonesia) and several universities.
By integrating the knowledge and findings from multiple fields of studies, including phytopathology, molecular biology, biochemistry, analytic chemistry and remote sensing, the Bridgestone Group has established four techniques that allow early detection of the disease and detection of pathogens in soil.
New easy diagnosis technique for white root rot disease

By advancing the DNA-based pathogen detection technology, the Bridgestone Group developed a groundbreaking technique to detect white root rot disease easily, quickly, and accurately. This is an application of a biotechnology called LAMP Method (*2), which uses a reagent kit we developed based on genome sequence information of the pathogen. As this kit allows simple visual inspection of the presence/absence of the pathogen without special equipment, early detection and prevention of the spread of the disease can be expected.
*2

LAMP Method: A gene amplification method developed by Eiken Chemical Co., Ltd. DNA sequence specific to the pathogen in soil is amplified and detected.