Financial Information : Mid Term Business Plan
Mid Term Business Plan
Feb 16, 2021 Released
We set a new vision of "continuing to provide social and customer value as a sustainable solutions company toward 2050" and constructed "Mid Term Business Plan for the years 2021 to 2023" with a view to sustainable growth towards 2030 and 2050.
Mid Term Business Plan(2021 - 2023) : Financial plan "Aggressive approach" and "Challenge"
Revenue and Gross Profit
We will evolve into a "strong" Bridgestone by rebuilding earning power.
In 2023, we aim to achieve a 40% level in gross profit ratio, a level exceeding 2015. For revenue, we aim to reach 3,300 billion JPY level.
We will not only simply increase sales, but work to improve its quality:
- Increase portion of premium products in our tire business,
- Increase revenue from our solutions business to 20% of the total revenue,
- Sharply focus on diversified products where we can leverage our competencies
We aim to transform Bridgestone into a resilient, highly profitable company that can adapt to changes in the surrounding environment.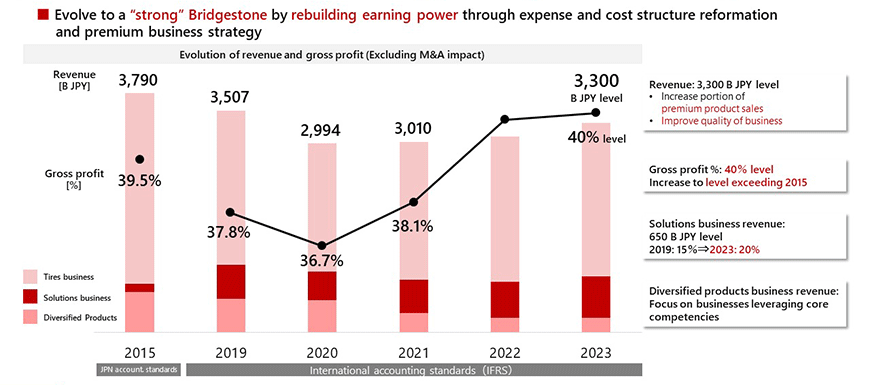 Operating Profit and Management Indices
As a result of rebuilding earning power, in 2023 we aim to reach a 13% level in adjusted operating profit ratio, the same level as in 2015. This equals 450 billion JPY level in amount.
Through consistent expense structure reformation, our operating expenses (OPEX) ratio will become below 2019 level.
We will squeeze ordinary resources, but we will continue investing in strategic resources necessary for growth.
We project profits from continuing operations to reach 290 billion JPY in 2023, exceeding 2015.
For ROIC, a new management index put in place, we plan to achieve 10% level.
We also aim to keep ROE at a 12% level as well.
Mid Term Business Plan : Evolve to a "strong" Bridgestone capable of adapting to changes
We have also set management targets for the year 2030.
In terms of sustainability, which is the core of our management, we will accelerate our efforts to promote circular economy and achieve carbon neutrality.
In keeping with our mid term environmental goal "Milestone 2030", we are targeting to reduce our own CO2 emissions by 50% (vs. 2011) and increase our use of recycled and renewable materials to 40% of our resources.
Furthermore, we aim to become carbon neutral and use 100% sustainable material by 2050.
Regarding financial plan, we aim to build a financial structure that will allow us to invest in new businesses, such as exploratory businesses, based on a resilient and highly profitable structure from 2024 onwards.
Related Information