Enviroment
The philosophy behind the Global Environmental Mission Statement
In May 2011, the company refined its Environmental Mission Statement. The mission itself stayed the same - "to help ensure a healthy environment for current and future generations..." - and it serves as the company's unchanging environmental philosophy. To highlight further steps the company is taking to support that mission, the Bridgestone Group declared its commitment to working together with its many stakeholders in order to realize a sustainable society. Furthermore, by outlining the direction of our long-term environmental activities and expressing them in simpler terms, we aim to further raise the environmental awareness of all members of the Group and encourage their engagement in initiatives aimed at achieving a more sustainable society.
In the Environmental Mission Statement, we also clearly indicate the "three areas*1 of environmental progress" and the "two core strategies*2 for growth." We feel that by outlining these areas and strategies in simplified terms, understanding is promoted, and all employees belonging to the Bridgestone Group can engage in activities in their respective positions that are in support of our environmental goals.
To ensure everyone in the Bridgestone Group is exposed to the Environmental Mission Statement, it has been translated into 20 languages and is displayed in every Bridgestone Group business. We also use various educational opportunities, such as e-learning, training programs and environmental intranets, to support employees in understanding the connection between the Environmental Mission Statement and the work they do each day. Results from an internal survey on the Environmental Mission Statement conducted in November 2011 at Bridgestone Corporation, showed that the refinements of the Environmental Mission Statement have led to increased interest in participating in environmental activities. The Bridgestone Group will continue to work to create a work atmosphere in which employees feel empowered to promote environmental activities that help support the company's Environmental Mission Statement.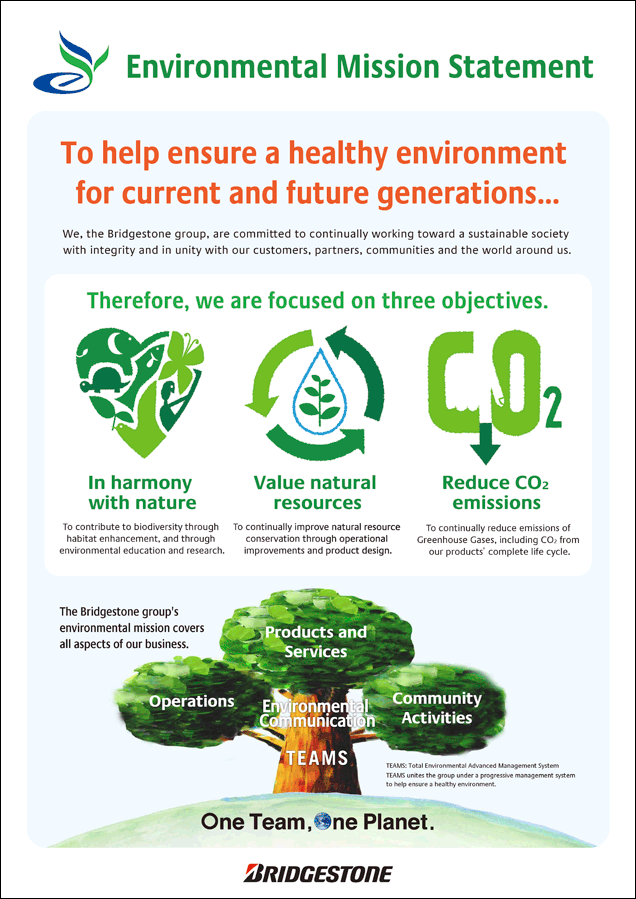 Three areas: Refers to the three areas of "products & services" and "operations" (i.e. Bridgestone's Group business activities) and "community activities" (i.e. activities in areas unrelated to these business activities).
Two core strategies: Refers to our "TEAMS (Total Environmental Advanced Management System)" and "environmental communication" as platforms for supporting activities in the "three areas" and promoting their continuous improvement. (TEAMS: our own integrated group-wide global environmental management system.)
Links for Environmental Mission Statement of each language (PDF)
The world in 2050
It is expected that in 2050, the world population will surpass 9 billion*1 and the number of automobiles will increase to 2.4 billion*2. Meanwhile, resources such as oil and other fossil fuels are not unlimited and resource consumption is expected to come to a peak in 2030. Keeping this in mind, the Bridgestone Group realizes it will be impossible to keep using resources at the current pace and with current methods. Moreover, CO2 emissions in the world are predicted to rise from 28 Gt to 75 Gt from 2008 to 2050*3. Estimates suggest that this will cause severe climate change unless we can cut global emissions of greenhouse gases in half by 2050.
Society will face many problems as our resource consumption continues to increase due to the earth's capacity. This demand created by population growth, coupled with the demands generated by a more convenient lifestyle enjoyed by people around the word, has put our natural resources under great stress.
Challenges facing the Bridgestone Group
To work toward building a sustainable society, an increased resource consumption and environmental footprint shouldn't be accepted as natural consquences of population increase and economic development, but should be separated. The United Nations Environment Programme (UNEP) refers to this separation as "decoupling." "Decoupling" is a key concept in Bridgestone Group's Long-term Environmental Vision.
As a global company, Bridgestone Group is aware of its responsibilities for meeting various needs in the world and assuring the stable supply of high-quality products. While working to fulfill these responsibilities, we aim to contribute to building a sustainable society by balancing our operations with the earth's capacity, in harmony with society and with nature. Based on this philosophy, we have prepared a long-term environmental vision to carry out our activities.
Two aspects of "decoupling"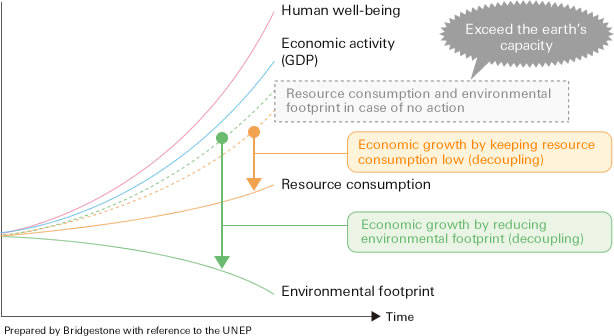 Bridgestone Group's Long-term Environmental Vision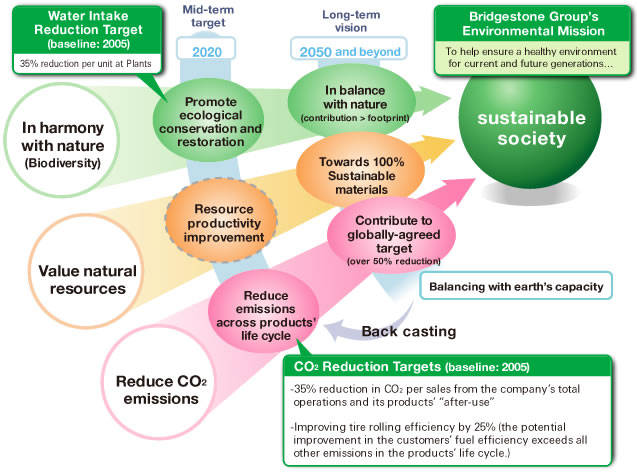 World Population Prospects: The 2012 Revision (UN, 2013).
Projection of World Energy and Transport Demands Mainly in the Automobile Sector (The Institute of Energy Economics, Japan, 2012).
Based on the scenarios of RCP8.5 of the CLIMATE CHANGE 2013 - The Physical Science Basis - Working Group I Contribution to the Fifth Assessment Report of the Intergovernmental Panel on Climate Change (IPCC (WG1), 2013).
The Bridgestone Group defines sustainable materials as materials that
1) are derived from resources with a guaranteed continual supply
2) can be used as part of the Group's business over the long-term
3) have a low environmental and social impact across their whole life cycle from procurement to after use.
* At the G8 Hokkaido Toyako Summit (held in July 2008) the G8 leaders agreed on a reduction of at least 50% in greenhouse gas emissions worldwide by 2050. The same year, at the Major Economies Meeting on Energy Security and Climate Change, developed countries and certain emerging nations such as China, India and others , adopted this target as a shared global objective.