The BWSC Supporters, a group of wide-ranging creators and artists introduce the highlights of the tournament.
Yoshimoto is an illustrator and manga artist from Osaka. His manga mostly revolve around his observations of his two children, as well as his interests in music and food.
Yutanuki Yoshimoto's adventures at the Bridgestone solar car event—now in manga form!
In August, a family event related to solar cars was held at Bridgestone Today, a museum operated by Bridgestone Corporation.
A number of creators who are the supporters of the Bridgestone World Solar Challenge (BWSC) have participated in this event. Together with their children, these professionals learned about how solar cars work. Later, we asked them to share their experiences through their creativity.
Today, we are presenting a manga written by Yutanuki Yoshimoto, an illustrator and manga artist with a style defined by soft tones and flowing lines. He is popular for his series of short comics based on his experiences with his four-year-old daughter and two-year-old son. At the event, Yoshimoto, his wife, and his two children learned about solar cars and then crafted their very own "solar" cars out of milk cartons.
To find out what kind of cars they created, read on!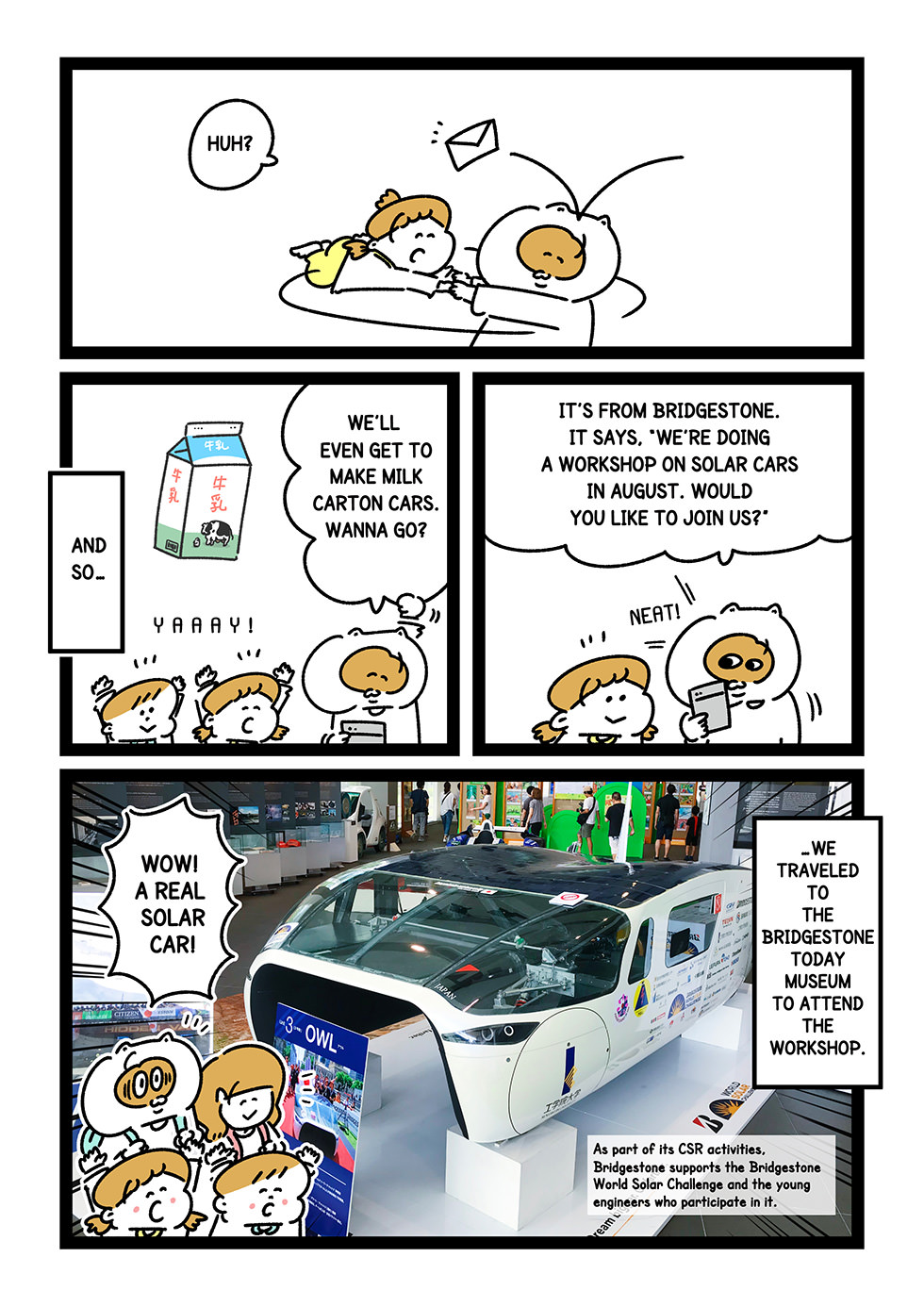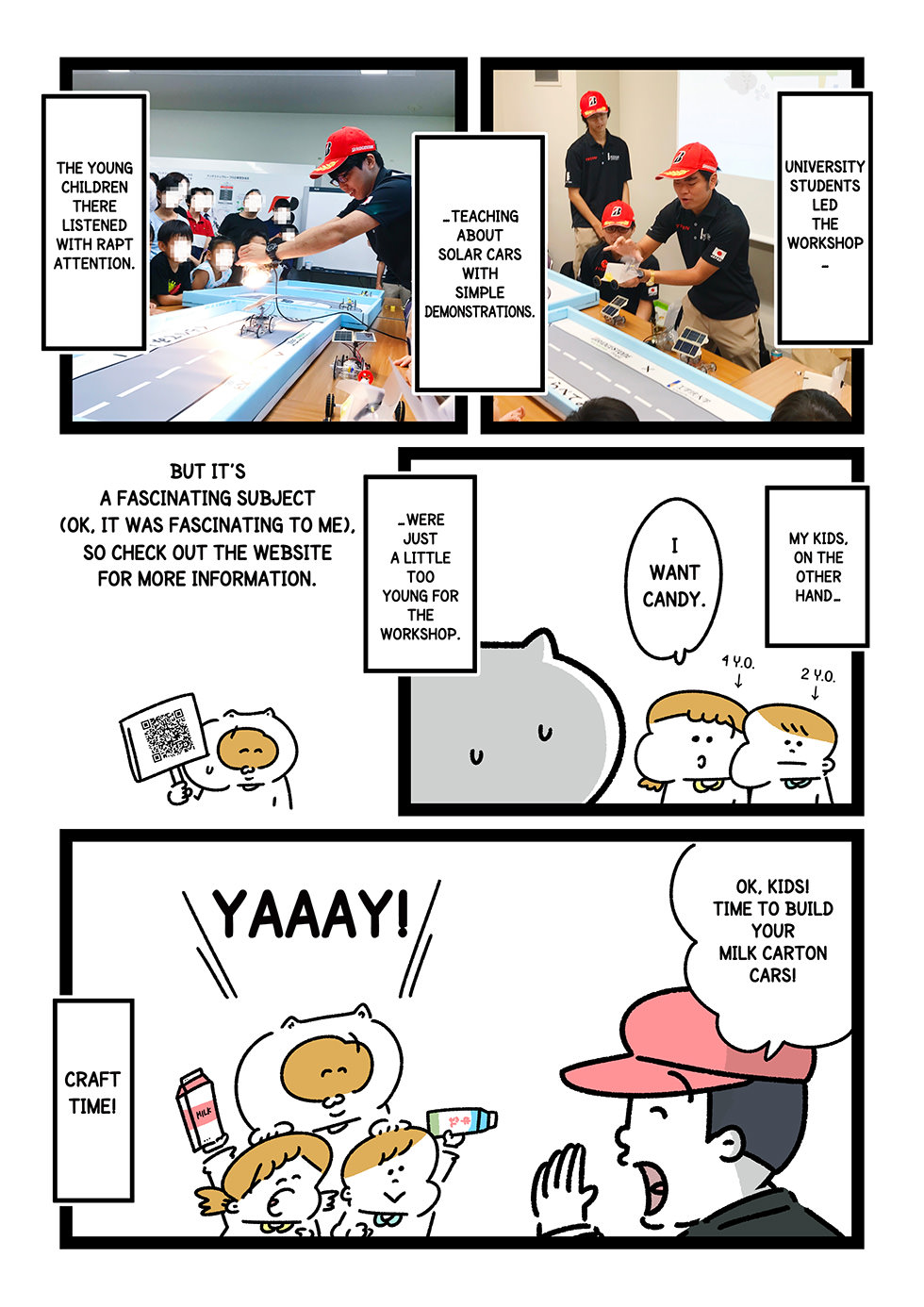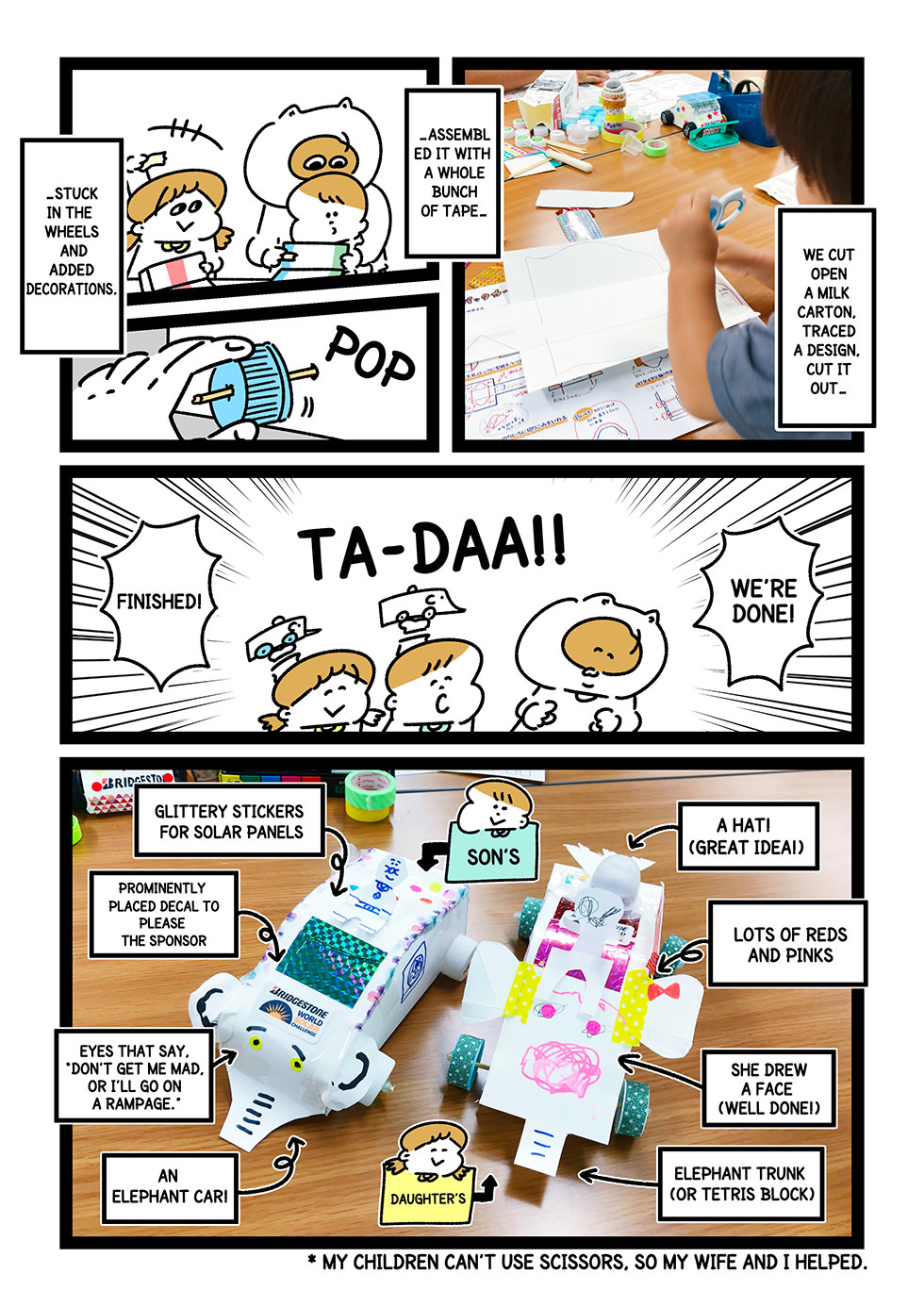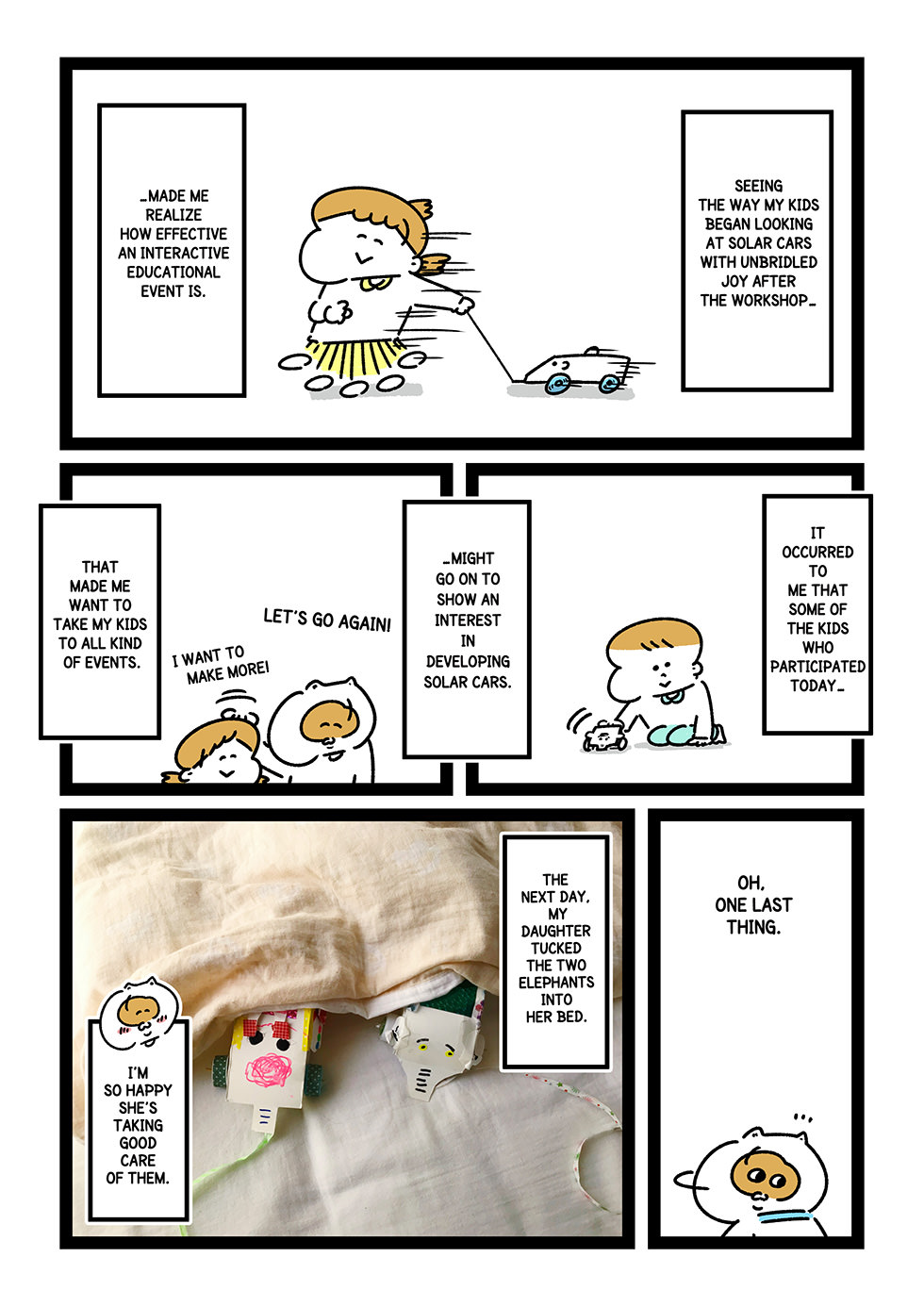 Well, it looks like the two children were still a little too young to do any of the craftwork, so they left that to mom and dad while they focused on decorating their cars. The two children connected their elephant cars and took them on a walk around the venue.
Another creative professional in attendance was the manga artist Ryoichi Yokoyama. Check out his report as well! Yoshimoto had some help from arts and crafts enthusiast pika—you can find her instructions for making your very own milk carton car on this site.
A note from Yutanuki Yoshimoto
As I mentioned in my manga, my children were a little too young to do any of the crafting, but all around me were other children, listening with rapt attention to the instructions and crafting their milk carton cars with great enthusiasm. Watching these kids made the event worthwhile for me, while also helping me realize why it's important to have children participate in these kinds of events.
I also loved all the explanations about solar cars. I remember building a simple solar car for science class in elementary school, but I had no idea that they had evolved to a point where someone could hop into one and zoom off.
The event also made me think about how environmentally and economically efficient the world would be if our cars ran on solar power instead of gas or electricity. I have the impression that solar panels are still a bit expensive, but I'd imagine that if more people began using them, our electricity bills would go down. So, I do hope that researchers continue making advances in this field.
This was a great event, and I'd like to thank Bridgestone for providing me with this opportunity!

Kome

Kome is a fluffy, one-year old Golden Retriever. She inherited the territory from her owner's previous dog, ef. Affectionate and playful, Kome melts everyone's heart with her sweet baby face in contrast to her impressive physique.efrinman Kome's owner. She is an illustrator popular for her dog illustrations and comics.

Kome, the popular Golden Retriever gives it a try! – A dog jacket that uses solar energy

Funny Dress-up Lab

Collage artist. Fascinated by various aspects of decorative stickers, such as their vivid colors, unique shapes, misregistration, and the fact that they are now dead stock, he has been creating collage works using solely decorative stickers without altering them in any way. He will cease creating these works when the current stock in the world runs out.

Dressing up tires with stickers for model cars! BWSC collage art piece by Funny Dress-up Lab

Taku Omura

Product designer. Taku Omura designs personal items, such as household goods and stationery, and develops his own products. His tweet with a hashtag, making proposals for corporate gifts without being asked, often becomes a trending topic on Twitter.

Give it a try! Taku Omura elaborates on solar-powered candy crafts with a magnifying glass