Under the BWSC theme 'Dream bigger. Go farther,' Bridgestone supports challengers in achieving their dreams.
Let us introduce the multifunctional smart benches developed by a Croatian startup that can be charged with solar power.
Solar-powered bench Steora as a device charger, Wi-Fi hotspot, advertising display, and CCTV!
Multifunctional smart bench Steora developed by Croatian startup Include. You may want to drop by and see the bench even if it is installed along an ordinary road or obscure corner of the city.
As of October 2019, more than 1,100 Steora benches have been installed in 260 cities across five continents. They can be found not only in tourist spots and along the coast but also in a zoo in Germany, attracting many people to drop by.
Generating environment-friendly power with solar panels
Steora is available in six different models, all of which are equipped with device chargers, free Wi-Fi, lighting, data-gathering sensors, and a dashboard.
All these functions are powered by solar panels installed on the bench, and can be used continuously without batteries or any additional power supply. When the bench is warmed by sunlight and its temperature exceeds 35°C, a cooling system is activated to protect the accurate sensors.
Steora comes with two USB ports for device charging, but that's not all. An integrated wireless charger enables you to charge any device that supports wireless charging by simply placing it on the bench.
Wi-Fi speed is up to 433 Mbps, and a built-in controller manages security while users visit social networking sites or shop online.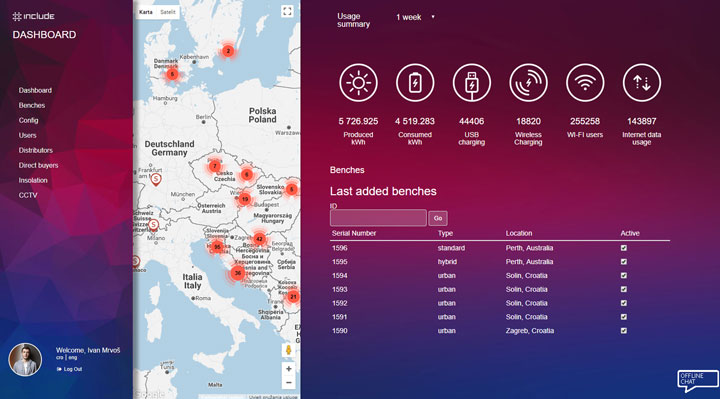 The back of the bench features a control panel. Weather information, such as temperature, humidity, and precipitation as well as bench usage, including the number of Wi-Fi users and Internet data consumption, is collected every 30 minutes and easily managed via the dashboard.
The time that the LED lights are turned on and off as well as the Wi-Fi name can also be changed. If something goes wrong, an alert comes up immediately.
Six types of Steora with various additional features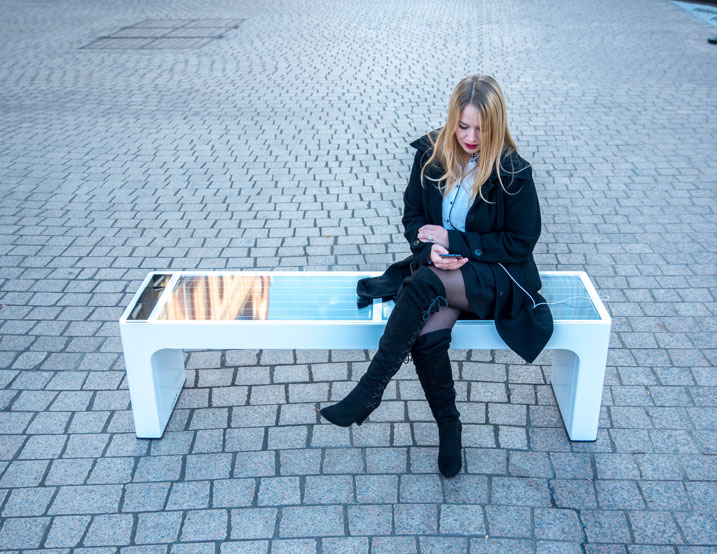 The six models, including the standard model Steora Standard, are equipped with additional features according to their intended environment.
Steora Hybrid is designed for use in countries with low sunshine hours. AC grid power is turned on when the power supplied by solar panels drops below 30%. Seat heating is another feature of this model for use in cold countries.
Steora Urban is equipped with a 19-inch LCD display for news, local announcements, corporate ads, and more.
Steora Urban+ is an advanced model of the Steora Urban intended for use in busy places. Thanks to its advanced built-in software, videos and photos are easily uploaded to the 19-inch LCD display. As the display period and frequency can also be specified, the model is suitable for advertising.
Steora CCTV was developed to improve safety in public spaces. A total of four cameras, one on each side of the bench, record 360° videos. The cameras have a night recording function with built-in infrared light. The bench is also weather-resistant and vandal-resistant, making it ideal for use as a security measure.
Steora E is the only model with no solar panels. It is designed for indoor use in crowded spaces, such as subways, shopping centers, and airports. The model requires an AC grid power supply.
Powerful battery that can last for five days without sunlight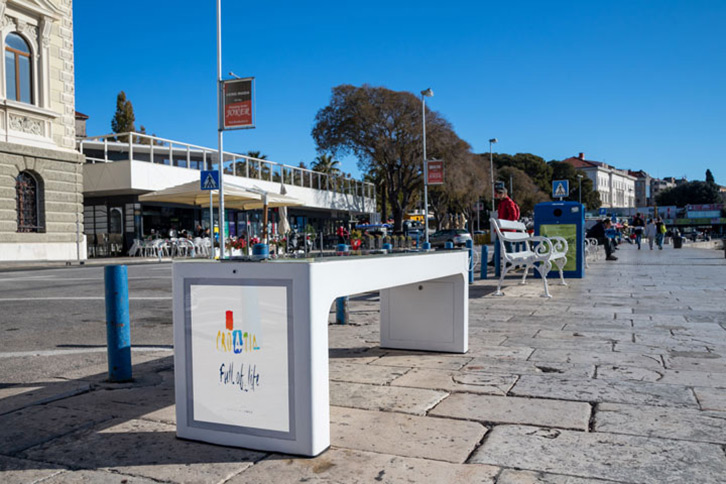 The Steora series equipped with solar panels can be installed anywhere with natural light. The energy generated is sent to and charged in a powerful battery system, guaranteeing up to five days of operation without direct exposure to sunlight.
When there are no users or in adverse weather, such as heavy rain or snow, the bench goes into standby mode and notifies the server. Through the dashboard, Steora owners can see which bench is in standby mode. The functions can also be turned off at 2 a.m. when the bench is not in use.
Steora keeps evolving. The internal system software is updated every three to six months to continuously provide users with a more comfortable environment.
A young Croatian entrepreneur helps create smart cities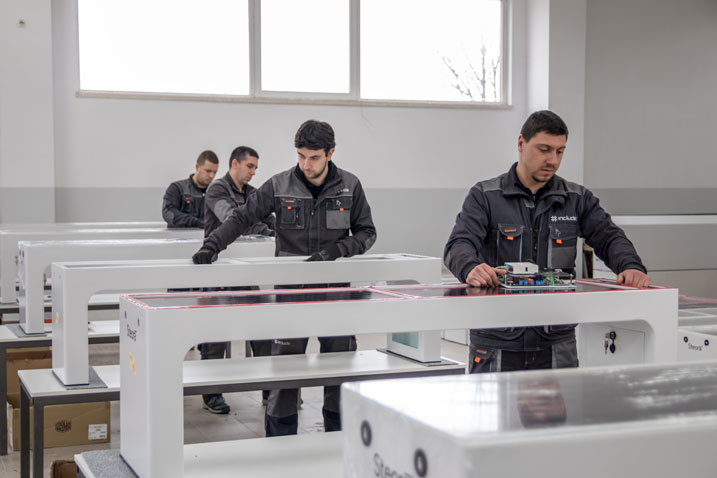 Ivan Mrvoš, the founder of Include, is now 23 years old. He was included in Forbes magazine's 30 Under 30 Europe 2019 list. He came up with the idea of Steora at the age of 19, and the first investor was his grandmother.
Ivan says; "If you install Steora benches, you can immediately start making a smart city." He adds that the Steora series can reduce the costs and time required to start a smart city project. In fact, Include's major customers are municipalities.
The day may come when the benches play an active role as security cameras or Wi-Fi hotspots for events in Japan.
Source: Steora

Kome

Kome is a fluffy, one-year old Golden Retriever. She inherited the territory from her owner's previous dog, ef. Affectionate and playful, Kome melts everyone's heart with her sweet baby face in contrast to her impressive physique.efrinman Kome's owner. She is an illustrator popular for her dog illustrations and comics.

Kome, the popular Golden Retriever gives it a try! – A dog jacket that uses solar energy

Funny Dress-up Lab

Collage artist. Fascinated by various aspects of decorative stickers, such as their vivid colors, unique shapes, misregistration, and the fact that they are now dead stock, he has been creating collage works using solely decorative stickers without altering them in any way. He will cease creating these works when the current stock in the world runs out.

Dressing up tires with stickers for model cars! BWSC collage art piece by Funny Dress-up Lab

Taku Omura

Product designer. Taku Omura designs personal items, such as household goods and stationery, and develops his own products. His tweet with a hashtag, making proposals for corporate gifts without being asked, often becomes a trending topic on Twitter.

Give it a try! Taku Omura elaborates on solar-powered candy crafts with a magnifying glass