The BWSC Supporters, a group of wide-ranging creators and artists introduce the highlights of the tournament.
Yokoyama is a manga artist who specializes in humorous works featuring antiheroes. He also writes a popular series of manga essays on life with his family. Yokoyama is a partial stay-at-home dad, spending equal time between work and his son and daughter.
Yokoyama Ryoichi writes manga depicting his experience crafting milk carton cars with his son
In August, a family event related to solar cars was held at Bridgestone Today, a museum operated by Bridgestone Corporation.
A number of creators who are the supporters of the Bridgestone World Solar Challenge (BWSC) has participated in this event. Together with their children, these professionals learned about how solar cars work. Later, we asked them to share their experiences through their chosen mediums.
Today, we are presenting a manga by Ryoichi Yokoyama, who writes a popular series of manga essays about his family. Fans of the series will recognize his 10-year-old son, Yuta, who Yokoyama accompanied to the event. Together, they crafted their very own "solar" cars out of milk cartons.
Will Yuta incorporate what he has learned in his two favorite classes—Science and Crafts—into his milk carton car? Read on to find out!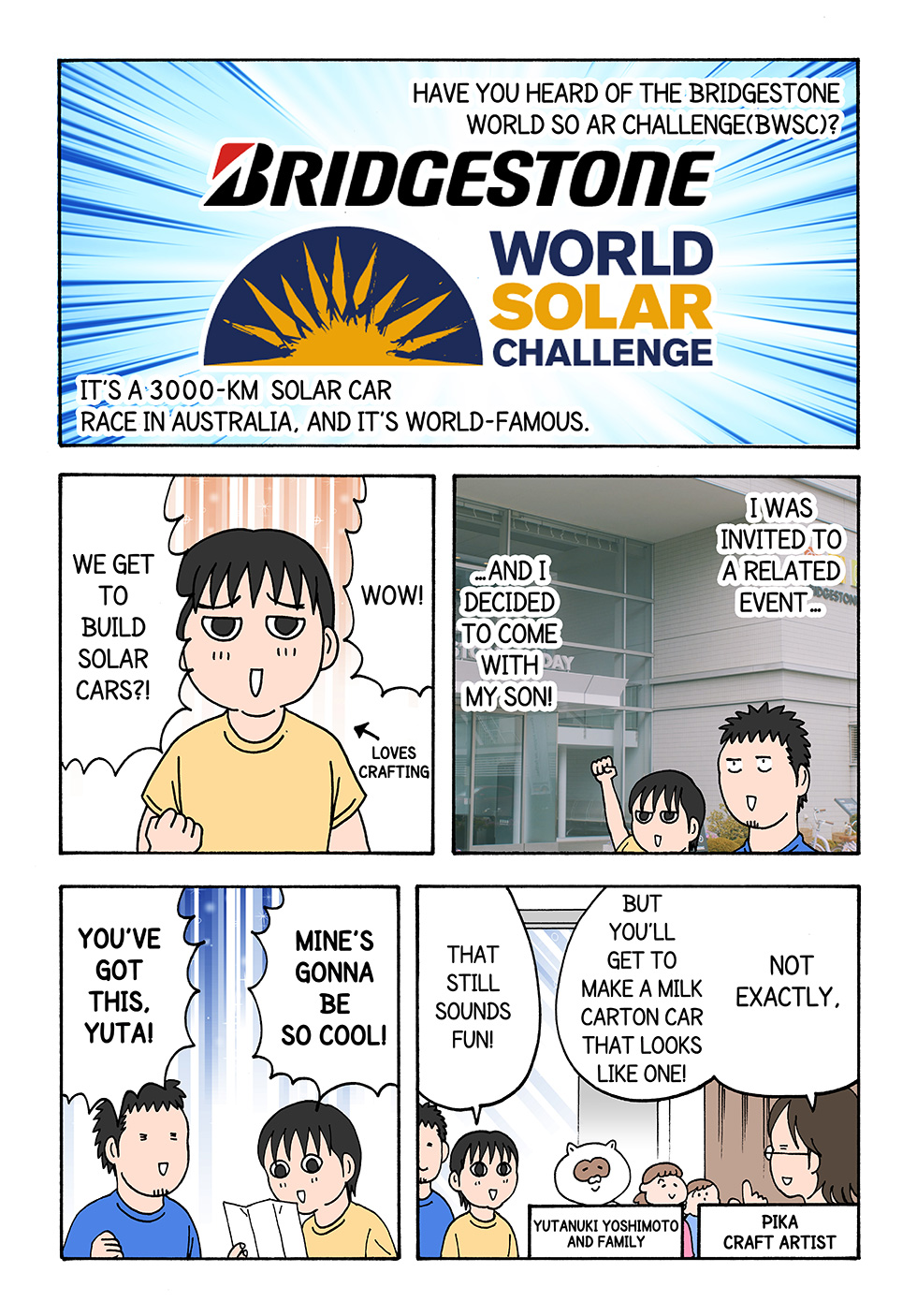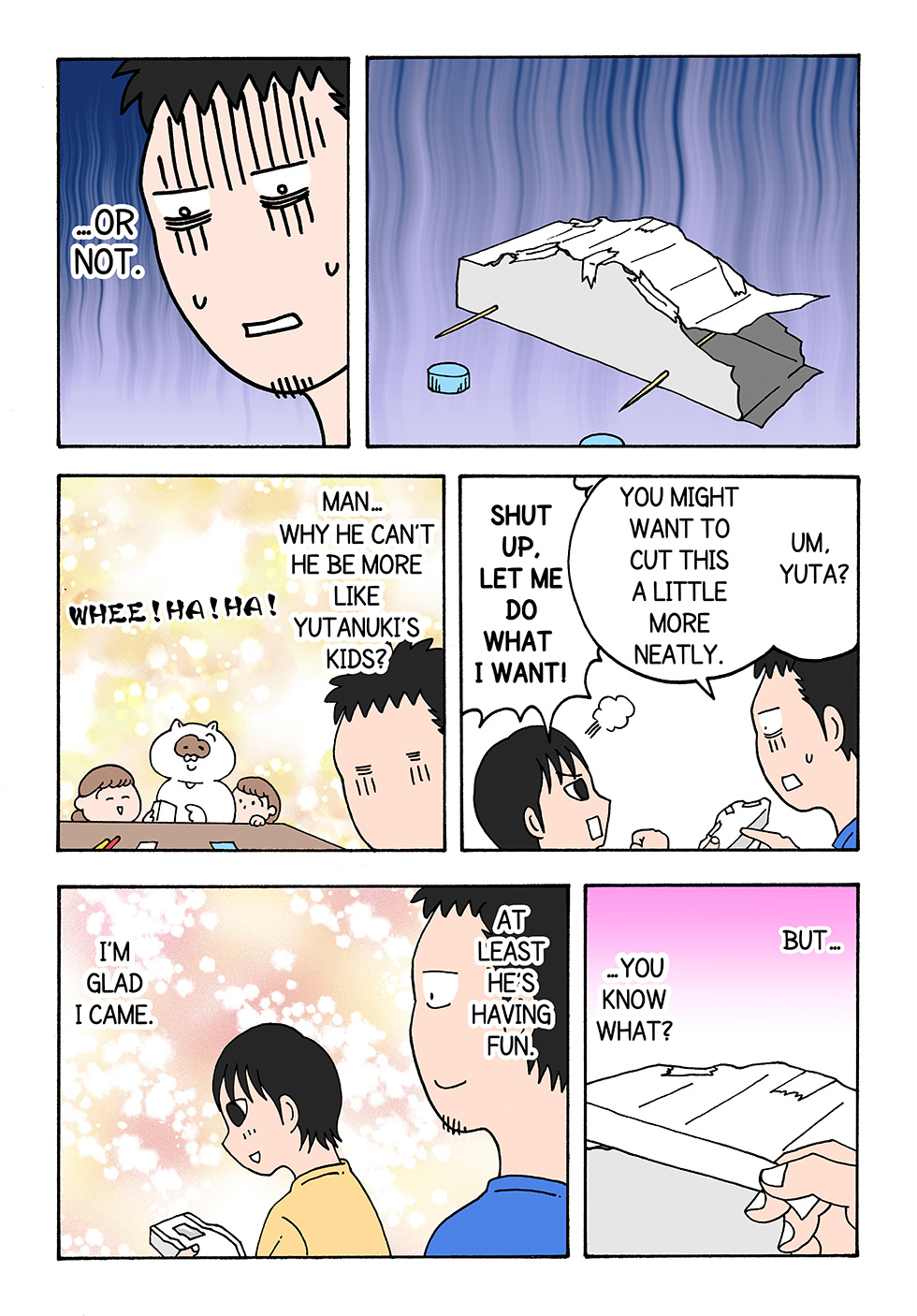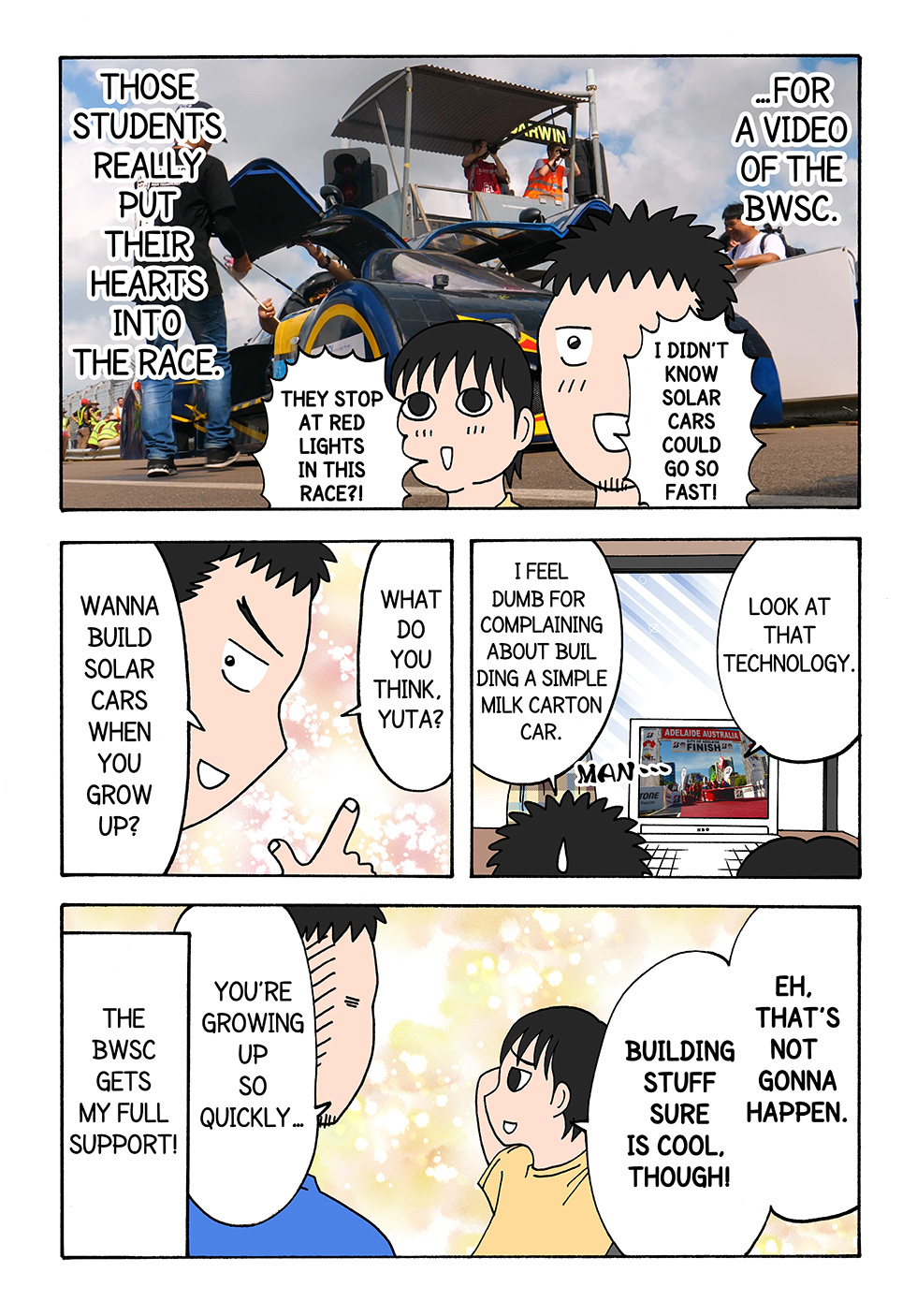 While Yokoyama crafted his milk carton car, Yuta sat next to him and worked on his own car all by himself. Like friendly rivals at a solar car race, the two brought out the best in each other!
You can find out more about the Owl—the 2015 BWSC Cruiser Class Winner built by the Kogakuin University Solar Team—in this article.
Yokoyama was in full dad mode that day: when interviewed, he mostly talked about his children. He mentioned how he wanted to craft another car with his six-year-old daughter—who also loves crafts, and who had to stay home that day—and how he hoped his science-loving son would grow up to build solar cars just like the members of the Kogakuin University Solar Team who led the event.
Another creative professional in attendance was the illustrator and manga artist Yutanuki Yoshimoto. Check out his report as well! Yoshimoto had some help from arts and crafts enthusiast pika—you can find her instructions for making your very own milk carton car on this site.
A note from Ryoichi Yokoyama
By attending this event, I was able to learn a lot about solar cars with my science-loving son. It was a great learning experience for both of us!
My son is in fourth grade, and he just did some experiments in Science class related to batteries in series and in parallel. He enjoyed learning more about the topic from the students on the Kogakuin University Solar Team. I think he got a lot out of the event.
I only hope the event was as memorable for my son as it was for me.

Kome

Kome is a fluffy, one-year old Golden Retriever. She inherited the territory from her owner's previous dog, ef. Affectionate and playful, Kome melts everyone's heart with her sweet baby face in contrast to her impressive physique.efrinman Kome's owner. She is an illustrator popular for her dog illustrations and comics.

Kome, the popular Golden Retriever gives it a try! – A dog jacket that uses solar energy

Funny Dress-up Lab

Collage artist. Fascinated by various aspects of decorative stickers, such as their vivid colors, unique shapes, misregistration, and the fact that they are now dead stock, he has been creating collage works using solely decorative stickers without altering them in any way. He will cease creating these works when the current stock in the world runs out.

Dressing up tires with stickers for model cars! BWSC collage art piece by Funny Dress-up Lab

Taku Omura

Product designer. Taku Omura designs personal items, such as household goods and stationery, and develops his own products. His tweet with a hashtag, making proposals for corporate gifts without being asked, often becomes a trending topic on Twitter.

Give it a try! Taku Omura elaborates on solar-powered candy crafts with a magnifying glass