The BWSC Supporters, a group of wide-ranging creators and artists introduce the highlights of the tournament.
Collage artist. Fascinated by various aspects of decorative stickers, such as their vivid colors, unique shapes, misregistration, and the fact that they are now dead stock, he has been creating collage works using solely decorative stickers without altering them in any way. He will cease creating these works when the current stock in the world runs out.
Dressing up tires with stickers for model cars! BWSC collage art piece by Funny Dress-up Lab
Collage artist Funny Dress-up Lab creates collage works using decorative stickers for model cars.
Using decorative stickers in various vivid colors that can generate a sense of movement, he has been decorating various objects ranging from model cars and graphics to art pieces and bathroom ceilings and presenting them as artwork.
「P.T.C.S.P.2」
「Bombshell」
「brainworm」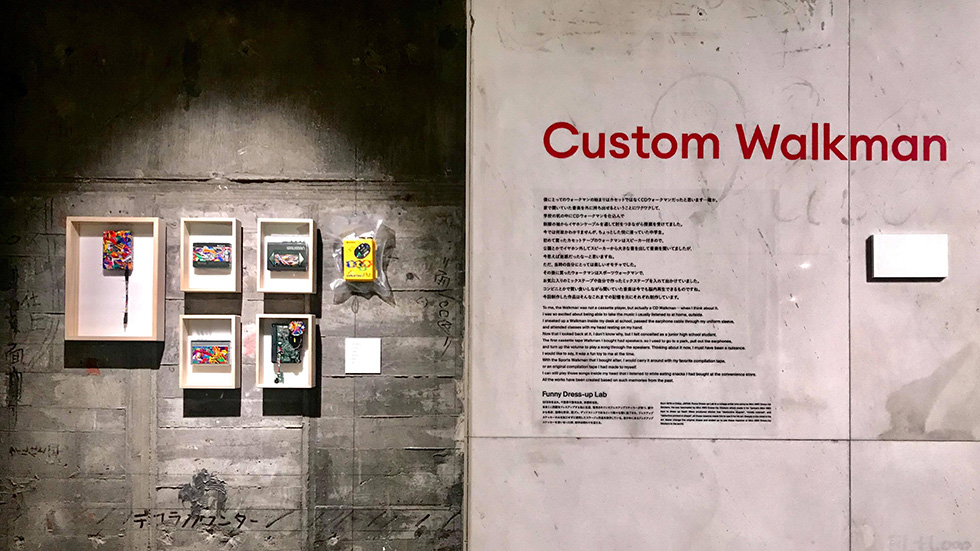 An exhibition
We have asked him to create a piece of artwork using Bridgestone's fuel-efficient tires made for solar cars, ECOPIA with ologic, which are also used in the Bridgestone World Solar Challenge (BWSC).
Below is the artwork PROMINENCE, which was completed after about two months of production.
He decorated two tires by covering the wheels and their tread with 200 to 300 sets of stickers!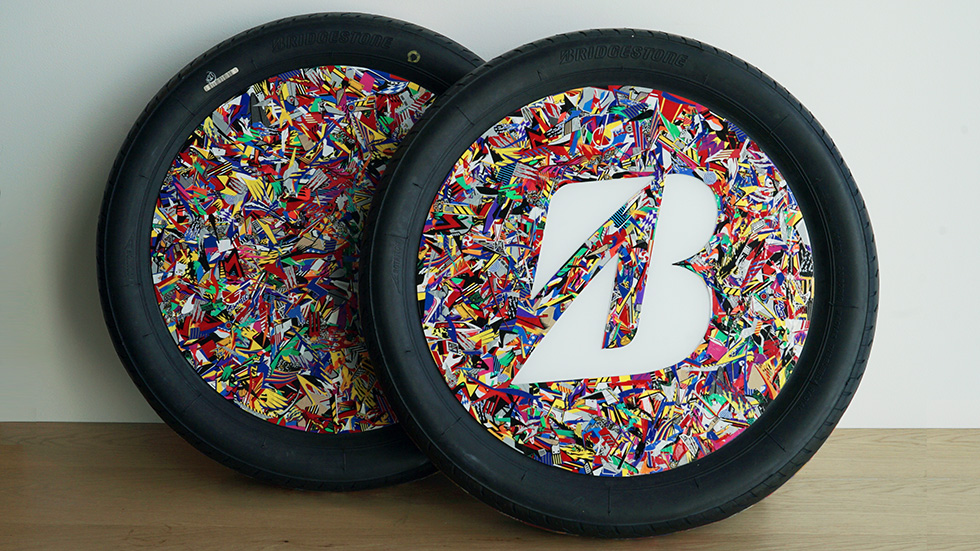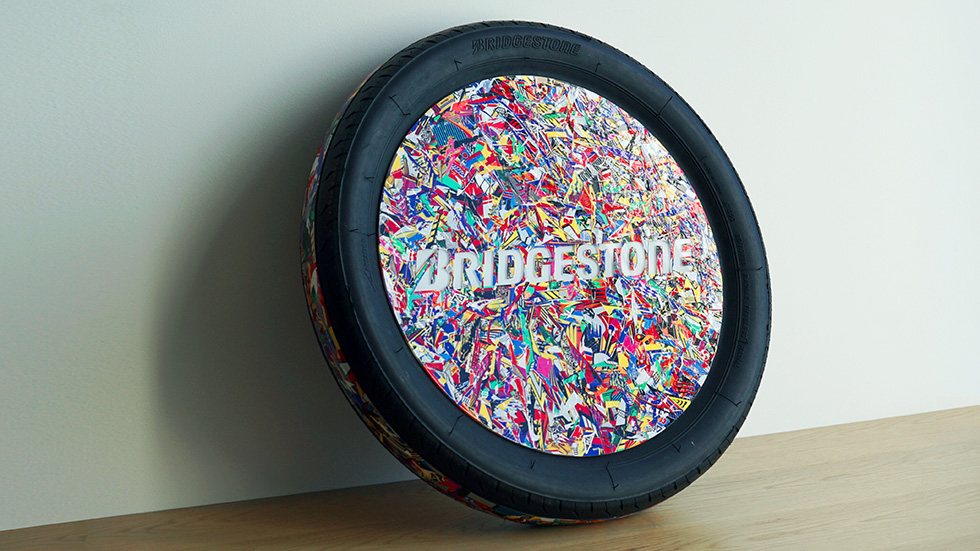 The title of the artwork, PROMINENCE, is intended to depict a "red flame" extending outward from the sun's surface. Why this title? Funny Dress-up Lab explains as follows: "When I was asked to use solar car tires to create a piece of artwork, the shape and color of the tires, as well as the solar cars that use the sun as their energy source, reminded me of a total solar eclipse. Prominences are always there, and do not only occur during a solar eclipse; I also wanted to depict Bridgestone's passion for solar cars as a prominence in my work. So, I applied collage to the tread as well."
Funny Dress-up Lab makes straight and curved lines without changing the shapes of the stickers themselves. For this work, therefore, significant effort was required to make them fit the round shape created by the tire and to outline the shape of the Bridgestone logo.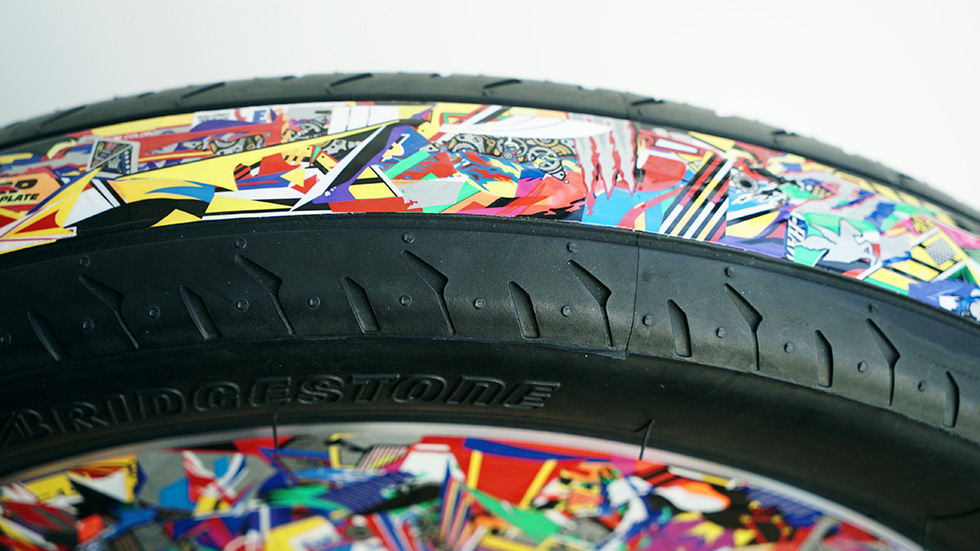 Comment by Funny Dress-up Lab
As the material I use for my works is stickers produced for model cars, I was extremely excited when I was first approached about this project. I thought "I have finally gotten close to a real car!!!"
Since it was the first time I had used a whole tire as the collage base, and I had rarely had a chance to see one up close, it was somewhat bigger than I expected. I also remembered that my parents told me that I liked car tires and was very attached to them when I was little.
When I was confronted with tires as the base for this project, I thought, "If tires were not only black in color but also came in other shades, cityscapes would be different."
As I had watched the previous BWSC race on TV, I was already interested in various aspects of the race, including the speed of solar cars, the weather's influence on solar cars, the length of the race, and the use of public roads for the race. One day, I hope to see them running on public roads in Japan.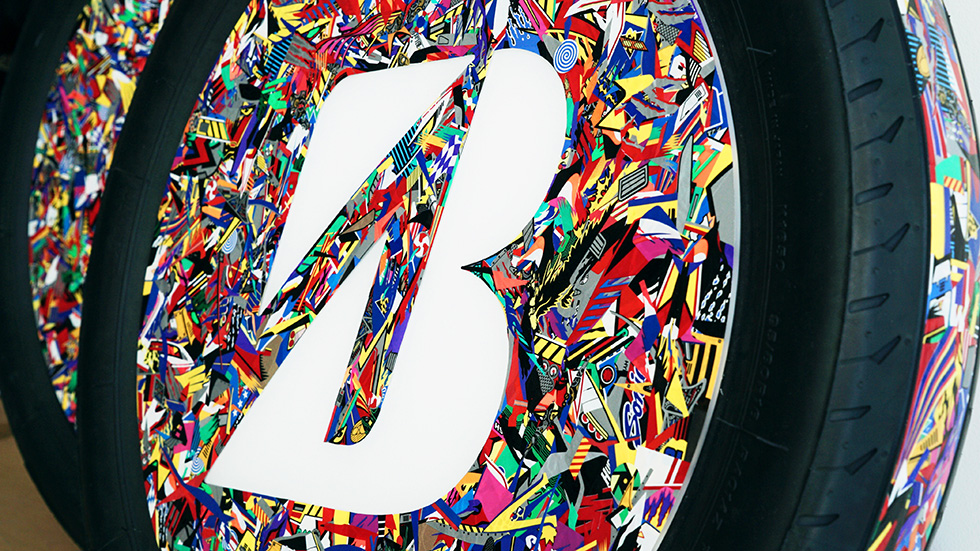 The artwork will be on display at an event for looking back at the BWSC 2019, to be held on December 19 at Tokyo Square Garden in Chuo-ku, Tokyo.
Funny Dress-up Lab adds: "The photographs here may not convey details, but stickers layered on top of one another create uneven surfaces and allow the colors of those underneath to show through faintly in some places. So, please look at the artwork from a distance first and then get closer to it to see the details." Don't miss the chance to see the work with your own eyes!

Kome

Kome is a fluffy, one-year old Golden Retriever. She inherited the territory from her owner's previous dog, ef. Affectionate and playful, Kome melts everyone's heart with her sweet baby face in contrast to her impressive physique.efrinman Kome's owner. She is an illustrator popular for her dog illustrations and comics.

Kome, the popular Golden Retriever gives it a try! – A dog jacket that uses solar energy

Taku Omura

Product designer. Taku Omura designs personal items, such as household goods and stationery, and develops his own products. His tweet with a hashtag, making proposals for corporate gifts without being asked, often becomes a trending topic on Twitter.

Give it a try! Taku Omura elaborates on solar-powered candy crafts with a magnifying glass

Nobuyuki Hayashi

Journalist / consultant covering technology & design. Well-known as a tech journalist who has been covering Apple and other tech giants up close for more than 28 years, he has also been covering how technology is shaping our lives and the society of tomorrow. As a lecturer and consultant, I help my clients establish a new framework based on those trends.