Under the BWSC theme 'Dream bigger. Go farther,' Bridgestone supports challengers in achieving their dreams.
Let us introduce a pole-shaped wind turbine with low operating costs from Spain.
No blades! A pole-shaped wind turbine, Vortex Bladeless, generates power by shaking.
Vortex Bladeless, a pole-shaped bladeless wind turbine, was developed by a Spanish start-up Vortex Bladeless Ltd. The high-tech generator with a simple shape is protected by six families of registered patents.
The company is currently prototyping for commercialization in the second half of 2020 for the price of approximately 200 Euros (around 25,000 Yen). The generator is intended to be used in farmlands and residential areas.
Generating energy using a vorticity phenomenon
Vortex Bladeless vibrates using the power contained in its vortices that is generated when wind bypasses the structure and transforms mechanical energy into electricity.
It starts generating power at a wind speed of 3 m/s, typical in urban areas. When the wind speed is 6 m/s, or enough to raise dust and sway small branches, it can generate enough power. As it operates on low to medium wind speeds, it is energy efficient, generating the same amount of energy at a cost 45% lower than that of a conventional 3-blade wind turbine .
The wind generator is additionally equipped with a safety device to automatically stop working when wind speed exceeds 30 to 35 m/s, the maximum speed that the generator can handle.
Simple shape for cost efficiency, wildlife friendly, and low noise
Vortex Bladeless is designed to solve the problems of traditional wind turbines, such as operational costs, noise, and impacts on birds. Owing to its simple shape and light weight of 15 kg, its material costs are reduced. It does not require a nacelle or blades that are the most expensive parts of a conventional wind turbine, and the manufacturing costs are estimated to be about 53% of that of a conventional wind turbine.
Since there are no blades, the turbine makes no audible noise (it is below 20 Hz), with no chance of flying objects being caught in bad weather or birds and bats being killed by the blades.
Another great feature is that the magnets placed in the cylinder repel each other and the moving parts do not touch each other. Therefore, there is almost no damage caused by wear and friction, reducing the maintenance costs. According to the company's calculations, the operating life of the generator is between 32 and 96 years.
Three models under development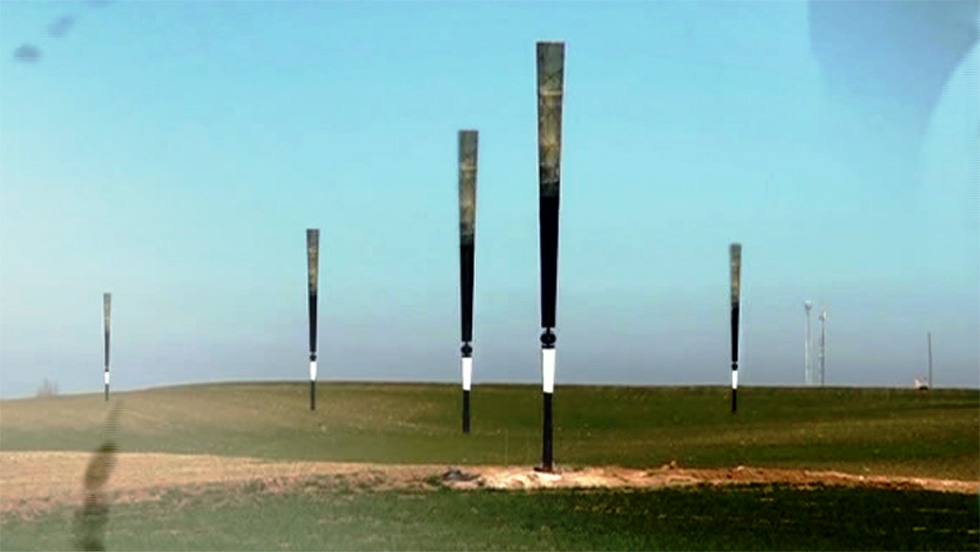 Vortex Bladeless is currently under development for three different models, two of those prototypes are already in operation.
The first in operation is Vortex Nano. With a height of 1 m and a power output of 3 W, this small model generates power efficiently, working with solar panels. The second is Vortex Tacoma. Standing at a height of 2.75 m with a power output of 100 W, the model is intended to be used for residential self-generation and farmlands.
Vortex Atlantis/Grand that is at the prototype stage is 9 to 13 m tall and has a power output of approximately 1 kW. The model is designed for residential/rural self-generation and installation in factories.
Product development inspired by a video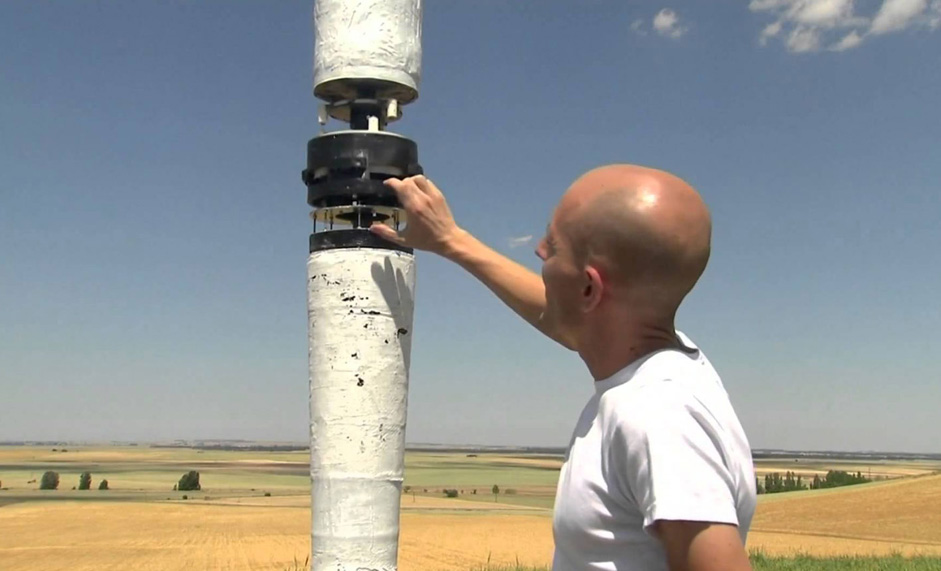 Vortex Bladeless Ltd. was founded in 2012 by David Yáñez and Raul Martín. A video inspired them to develop the generator.
It was a video of the Tacoma Narrows Bridge in the USA that collapsed in 1940, showing how the bridge's frequency resonated with that of the vortices caused by high-speed winds resulting in its collapse. David came up with the idea of making a device that generates energy using the power contained in the vortices.
His idea was highly appreciated and attracted public funding from the Centre for the Development of Industrial Technology (CDTI). The company started a collaboration with the Massachusetts Institute of Technology and Harvard University. In June 2015, they launched a successful crowdfunding campaign to hire engineers required for taking the project ahead.
New clean energy for areas where solar power generation is not possible
In recent years, demands for clean energy such as solar and wind are increasing as measures against global warming. To meet these demands, the company is developing devices that can be installed anywhere with low manufacturing costs and easy operations.
A whole new clean energy device, at a price affordable to individuals, generates electricity regardless of the amount of wind and sunshine hours, requires less space, and it is easy to install. A day may come when the company's efforts would transform the wind power market.
Source:Vortex Bladeless Ltd.

Kome

Kome is a fluffy, one-year old Golden Retriever. She inherited the territory from her owner's previous dog, ef. Affectionate and playful, Kome melts everyone's heart with her sweet baby face in contrast to her impressive physique.efrinman Kome's owner. She is an illustrator popular for her dog illustrations and comics.

Kome, the popular Golden Retriever gives it a try! – A dog jacket that uses solar energy

Funny Dress-up Lab

Collage artist. Fascinated by various aspects of decorative stickers, such as their vivid colors, unique shapes, misregistration, and the fact that they are now dead stock, he has been creating collage works using solely decorative stickers without altering them in any way. He will cease creating these works when the current stock in the world runs out.

Dressing up tires with stickers for model cars! BWSC collage art piece by Funny Dress-up Lab

Taku Omura

Product designer. Taku Omura designs personal items, such as household goods and stationery, and develops his own products. His tweet with a hashtag, making proposals for corporate gifts without being asked, often becomes a trending topic on Twitter.

Give it a try! Taku Omura elaborates on solar-powered candy crafts with a magnifying glass