The BWSC Supporters, a group of wide-ranging creators and artists introduce the highlights of the tournament.
Journalist / consultant covering technology & design. Well-known as a tech journalist who has been covering Apple and other tech giants up close for more than 28 years, he has also been covering how technology is shaping our lives and the society of tomorrow. As a lecturer and consultant, I help my clients establish a new framework based on those trends.
BWSC: The Sport That Will Transform Our Future
By Nobuyuki Hayashi
Forty-seven teams from 23 countries around the world gather in Australia for the biannual Bridgestone World Solar Challenge (BWSC). The participating student teams design and develop their own solar car and drive it across the Australian Outback for almost a week.
There are numerous regulations covering, for example, the surface area of the solar panels that can be attached to the car and the capacity of the battery that stores the generated electricity. By meeting those strict requirements and entering the race, the teams earn the opportunity to display the solar car technologies they have developed and increase the chances of these technologies being incorporated into society.
For example, one startup established by the former members of the Eindhoven University of Technology team from the Netherlands is set to launch a consumer solar car in 2020.
To give the event more social relevance, the BWSC in 2013 established a Cruiser Class, in which teams compete to develop the best-designed solar car—the car of the future. In a way, it was a natural progression; although the BWSC is a motorsports race pitting different teams against each other, it is also an event that shows us a glimpse of a future where renewable energy runs the world. In an interview with Shuichi Ishibashi, Vice Chair and Representative Executive Officer of Bridgestone, I asked how he envisions the BWSC influencing our future, and what sort of future Bridgestone is attempting to build.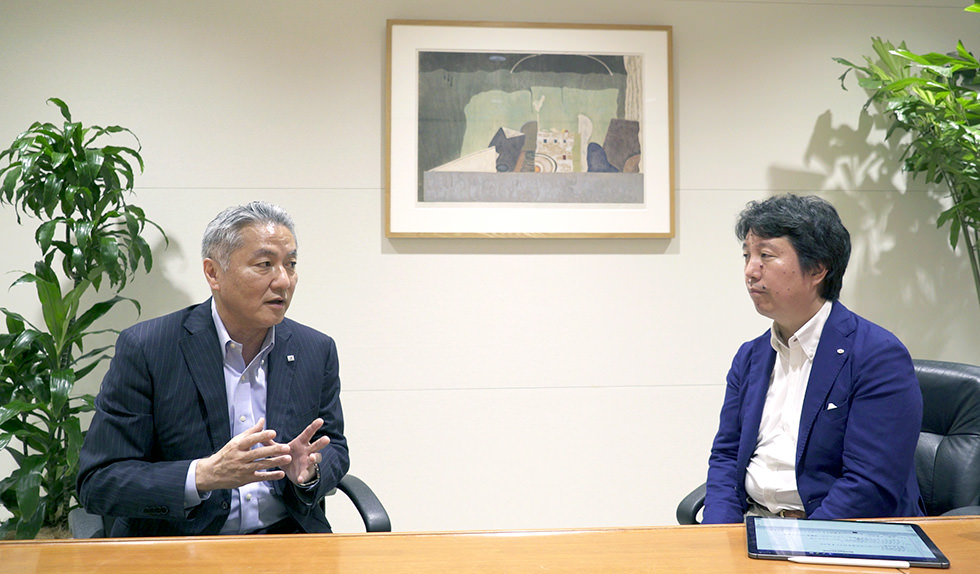 Australia: Solar capital of the world
The BWSC takes place in Australia, a country that is blessed with abundant sunlight and serves as a world leader in renewable energy.
According to research conducted by Australian National University, a large portion of the population uses renewable energy generators. At 250 watts per person per year, Australia boasts the world's largest amount of renewable power generated per capita—almost double that of Uruguay in second place.
The country is making substantial progress in reducing greenhouse gas emissions as pledged in February 2019 in the Paris Agreement, and they expect to meet their target five years early, in 2025. Currently, Australia is on track to achieve 100% renewable energy by 2032. There is already a railway, the Byron Bay Railroad in New South Wales, which runs entirely on solar energy.
It seems fitting for one of the world's largest solar car races to be launched in a country that is this serious about solar power generation.
A testing ground for cutting-edge technology
It's not just Australia; the BWSC also greatly contributes to the advancement of solar power generation technology around the world.
For example, many of the participating teams use solar panels designed for spacecraft, which offer a higher energy conversion rate. However, because these can give a team an unfair speed advantage, each car may equip up to just 2.64㎡ of such panels. The limit for standard silicon solar panels is 4㎡. Due to these restrictions, teams are forced to keep up with advances in technology to improve the energy efficiency of their car. For example, a number of teams this year have incorporated the latest solar panels for spacecraft. Other innovations include using carbon and other materials to make the car more lightweight and incorporating advanced battery technology. Eventually, these design choices will trickle into the public, benefiting society as a whole.
Many companies sponsor the participating teams. They provide the technology needed to improve speed and reduce weight, and in return they acquire first-hand knowledge in how these technologies perform outside of a lab. Stickers from these corporate sponsors adorn each other —although these days, the logos tend to be printed right on the body in a further attempt to reduce air resistance. The vast number of stickers and logos is an indication of the importance of this event for some of the world's top companies.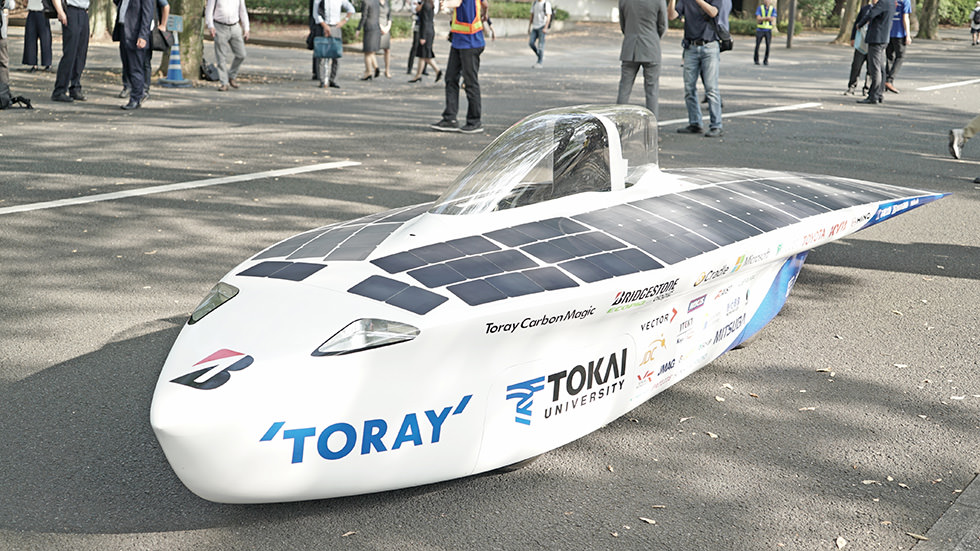 The Tokai Challenger from the Tokai University solar car team
From socks to solar cars to lunar vehicles
Bridgestone isn't just the event's sponsor; they also provide their technology to the race's participants.
Specifically, they provide tires designed for solar cars. Known as "ECOPIA with ologic," these tires are a modified version of a tire that Bridgestone jointly developed with BMW for the latter's electric vehicle (EV). It has the durability to last 3,000 km (1,865 mi.) race and offers lower rolling resistance. Using the feedback from the BWSC, the company can further improve the tire so it can be incorporated in future solar cars and EVs—or so that they can apply similar technology in other fields. After all, Bridgestone is involved in many different businesses.
Bridgestone was founded by Shojiro Ishibashi in 1931. Prior to this, Ishibashi ran a business selling tabi socks and other items. He developed a product called Jika-tabi, which attached rubber soles to tabi to protect coal miners from slipping on wet surfaces in the mines. After this, he dedicated his career to supporting our physical foundations.
Ishibashi, the Bridgestone vice president, says that there is an axiom he often shares with his employees: "There are those who ride carriages, those who carry carriages, and those who make the sandals worn by those who carry carriages. They may just be sandals, but if the sandals break, both the rider and the carrier will come toppling down."
More recently, Bridgestone provided the rubber used in the earthquake-resistant design of Tokyo Station's Marunouchi Building. They will be also contributing tires to the fuel cell vehicle developed by Toyota that the Japan Aerospace Exploration Agency will be taking to the moon in 2029.
"I heard there is water on the moon," Ishibashi says. "That means it is a sustainable environment—and our tires will be exploring its surface. The gravity is weaker, and the composition of the air is different than on Earth, so typical tire designs will not work. But through this opportunity, we can take a giant leap towards mastering rubber, mastering tires, and mastering tire-to-surface contact. And in the process, we can expand our domain from Earth to the greater universe."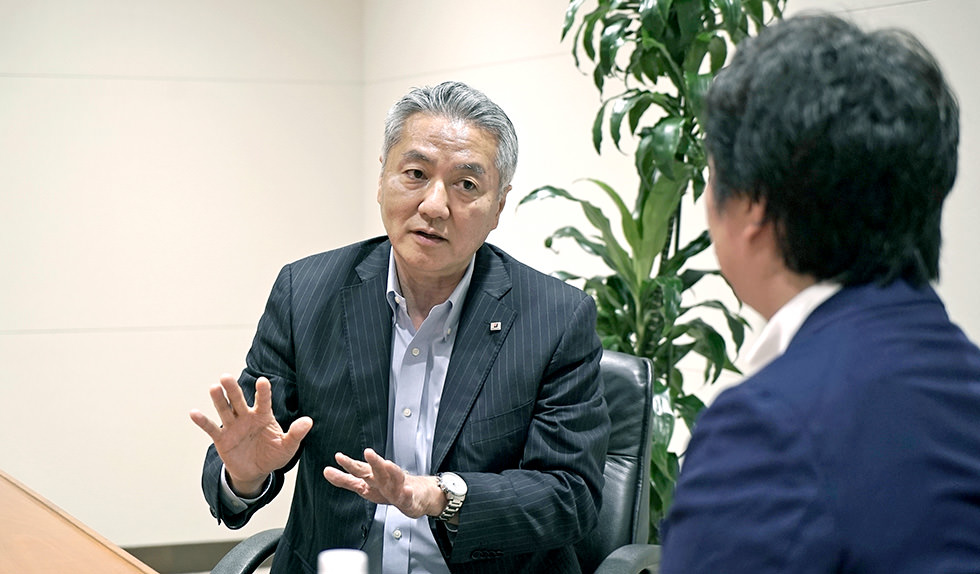 The future of Bridgestone
From tabi to tires for regular and solar cars, to earthquake proofing and tires for a lunar vehicle, a common strand unites the varied work of Bridgestone: providing support to the foundations that keep us upright.
The company also supports the foundation on which we will build our future, and the BWSC—which hints at a future solar-based society—represents one such effort. What significance does the BWSC have for Bridgestone, and what sort of future does the company intend to shape through the event?
Ishibashi, the Bridgestone founder, espoused a philosophy of contributing to society through products of the highest quality, and it continues to influence the company's direction. The pursuit of quality and the idea of giving back to society are built into the Bridgestone DNA. Today, the company operates a CSR program—Our Way to Serve—that places an emphasis on three factors: mobility, people, and the environment.
"Even in an ordinary business meeting, we always check to make sure that any decision we make reflects these three factors," says Ishibashi, the vice president.
Bridgestone is already looking to the future in relation to these three factors. Let's first take a look at mobility.
"A once-in-a-century revolution is about to take place in the world of mobility," says Ishibashi. Taking the mobility as a service (MaaS) concept to heart, even the 20th century's biggest automotive companies are beginning to turn into service providers—a change that could dramatically transform society. According to Ishibashi, Bridgestone will support this transformation at the foundational level through solutions that combine superior products with superior services and a superior global service network.
"We'll be supporting more than just transportation systems and other types of social infrastructure," says Ishibashi. "We'll be providing mobility support to mine work, to airplanes, to agriculture through agricultural equipment, and to all kinds of other fields."
Next, let's take a look at people—or rather, the idea of providing personalized support to every person throughout the world.
"We were looking for something we could do to help people enjoy a more enriching life, so we decided to focus on activities that promote an active, healthy lifestyle," says Ishibashi. "It's what led to our support of the Paralympic Games as an official sponsor."
Bridgestone is doing more than just putting their name on the event—they will provide the rubber sole of the artificial leg worn by paratriathlon athlete Yukako Hata, as well as the rubber sewn into the gloves worn by wheelchair athletes to provide a good grip when they spin their wheelchairs around. The rubber used represents an apex in Bridgestone's pursuit of quality.
Ishibashi says that many of Bridgestone's efforts involve both mobility and people. For example, the company is involved in autonomous vehicles. They are expected to play an important role in remote parts of Japan, where the population is overwhelmingly elderly and has little means of transportation. However, one potential problem is: What would happen if a tire were to burst in the middle of nowhere? This is why Bridgestone is currently working on a tire that requires no air to fill—essentially, a tire that will not become flat.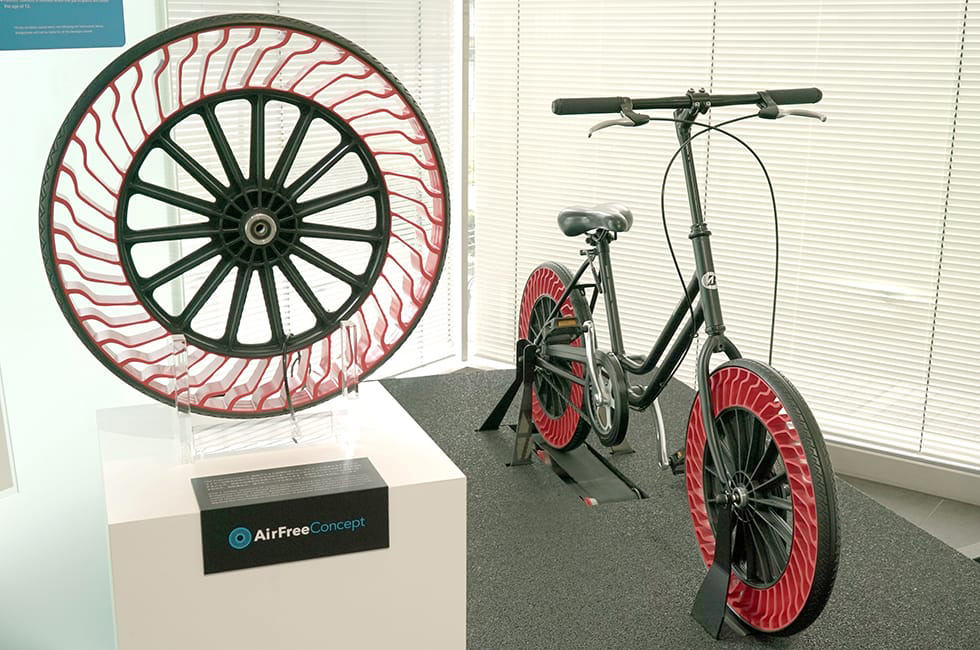 A next-generation "air-free concept" tire
The company is also jointly researching and developing an accessible bus stop curb system with Yokohama National University, the Japan Transportation Planning Association, and Advance Co. The system would feature a curbstone design that better aligns with the shape of bus tires and allows buses to pull closer to the curb. This would allow wheelchair users to go on and off the bus with ease.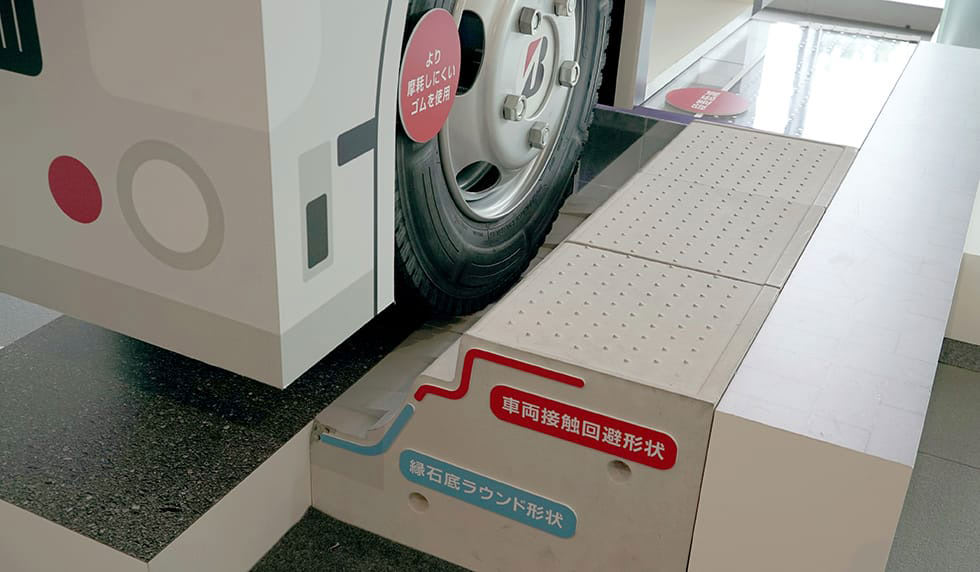 Accessible Bus Stop Curb System
Last, but certainly not least, is the environment.
"If society doesn't become sustainable, we as a society will not be able to function anymore," says Ishibashi, his voice rising with passion. "Even at work, we are constantly arguing about how we can operate more sustainably. Whatever business it is, we are always asking, is this a business model that will help us reduce our carbon dioxide emissions? What is the resource productivity? Is it compatible with the environment?" This is not just a recent trend for the company; even in its early days, the company was planting trees around its factory, creating an entire forest as a result.
Ishibashi says that all three elements—mobility, people, and the environment—are perfectly represented in the BWSC, making it a very important event for Bridgestone. "It's a race where companies and student teams come together to tackle challenges related to mobility, people, and the environment," he says. "It's a perfect summation of our mission."
Using the format of sports entertainment, the BWSC not only provides an exciting narrative of student teams triumphing over difficult technological challenges, but also serves as a launching pad for real-life solutions that could transform our society. Learning about these solutions, on its own, is worth the price of admission.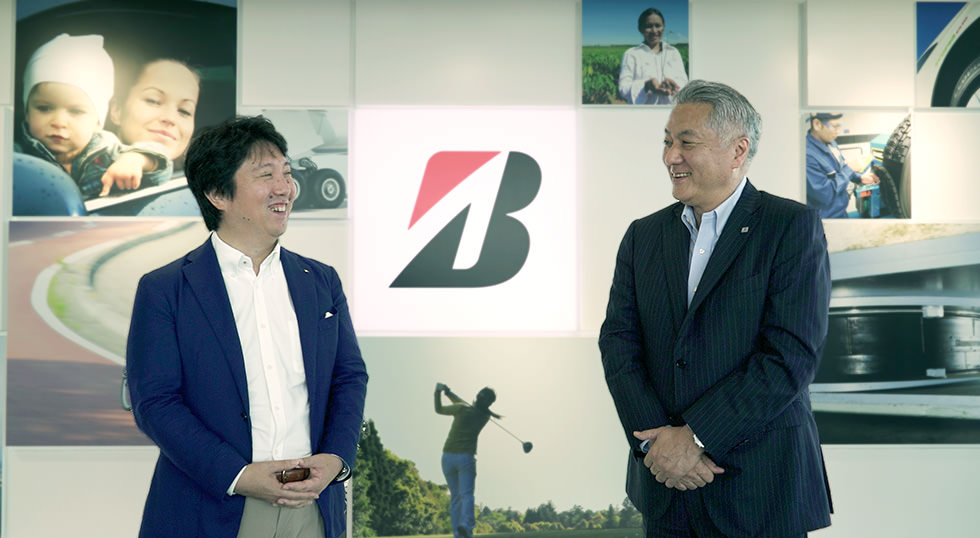 This is the second part of a two-part report. For the first part, in which the writer compares his own interest in the BWSC with Bridgestone's philosophy and passion behind the race, click or tap here.

Kome

Kome is a fluffy, one-year old Golden Retriever. She inherited the territory from her owner's previous dog, ef. Affectionate and playful, Kome melts everyone's heart with her sweet baby face in contrast to her impressive physique.efrinman Kome's owner. She is an illustrator popular for her dog illustrations and comics.

Kome, the popular Golden Retriever gives it a try! – A dog jacket that uses solar energy

Funny Dress-up Lab

Collage artist. Fascinated by various aspects of decorative stickers, such as their vivid colors, unique shapes, misregistration, and the fact that they are now dead stock, he has been creating collage works using solely decorative stickers without altering them in any way. He will cease creating these works when the current stock in the world runs out.

Dressing up tires with stickers for model cars! BWSC collage art piece by Funny Dress-up Lab

Taku Omura

Product designer. Taku Omura designs personal items, such as household goods and stationery, and develops his own products. His tweet with a hashtag, making proposals for corporate gifts without being asked, often becomes a trending topic on Twitter.

Give it a try! Taku Omura elaborates on solar-powered candy crafts with a magnifying glass