Under the BWSC theme 'Dream bigger. Go farther,' Bridgestone supports challengers in achieving their dreams. Let us introduce you to a next-generation portable ball-shaped mobility from Ireland.
It's just like balancing on a ball! A next-generation personal mobility device with amazing agility
JYROBALL is a spherical electric unicycle transporter developed by the Irish company Moby Products. A new form of mobility, it's just slightly larger than a bowling ball, giving the appearance of the rider balancing on a ball.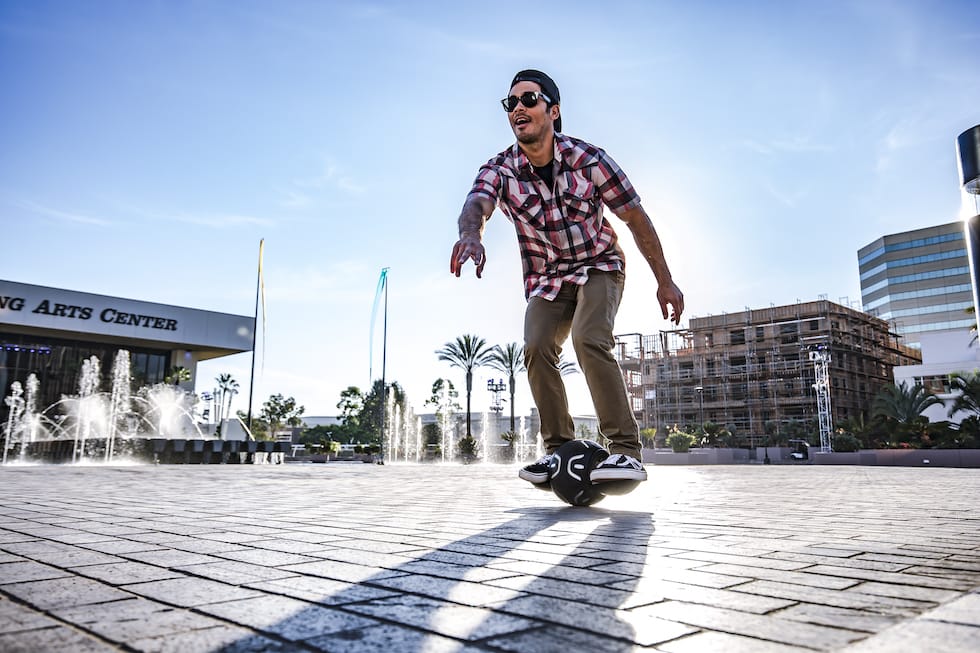 Pre-orders started from June 4, 2019 on the crowdfunding website Indiegogo, with shipping to several places, including Japan, by the end of October. As of September 2019, the product can be purchased for $449 (approx. 49,000 yen) for the November shipment.
Easy to carry and chargeable at home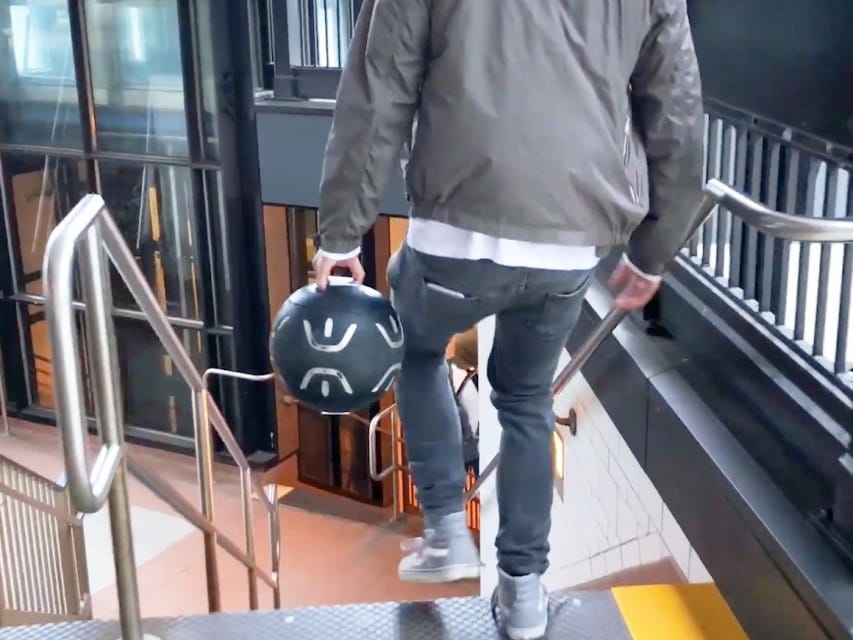 JYROBALL is 25.4 cm in diameter and weighs 9.5 kg. It has retractable footplates at the touch of a button and a built-in handle for portability. The device may be small but has a maximum load capacity of 100 kg.
Its 500 W electric motor can achieve a maximum speed of 20 km/h—a speed alert goes on when it reaches 18 km/h. Conveniently chargeable in a wall socket at home, JYROBALL can transport you over 24 km when charged for 2.5 hours. Its tire life is over 6,000 km, with spare tires available.
Smooth maneuverability delivered by software that detects body weight shifts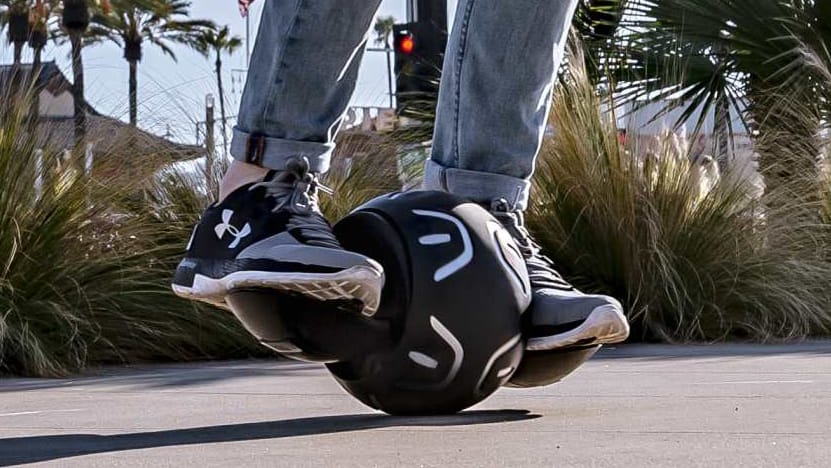 Even if you have no experience with unicycles or skateboards, you will be able to ride JYROBALL after a 10–20-minute practice. The software detecting shifts in body weight helps you control your direction: Tilt your weight forward to advance and lean left or right to turn. The speed can be controlled in the same way—the more you lean, the higher the speed.
All you need to do is push the power button to flip down the footplates. No apps or Bluetooth connection required. You just need to get used to the operation while developing balancing skills. It's a mobility device that's easy even for beginners.
The future of commuting with micro mobility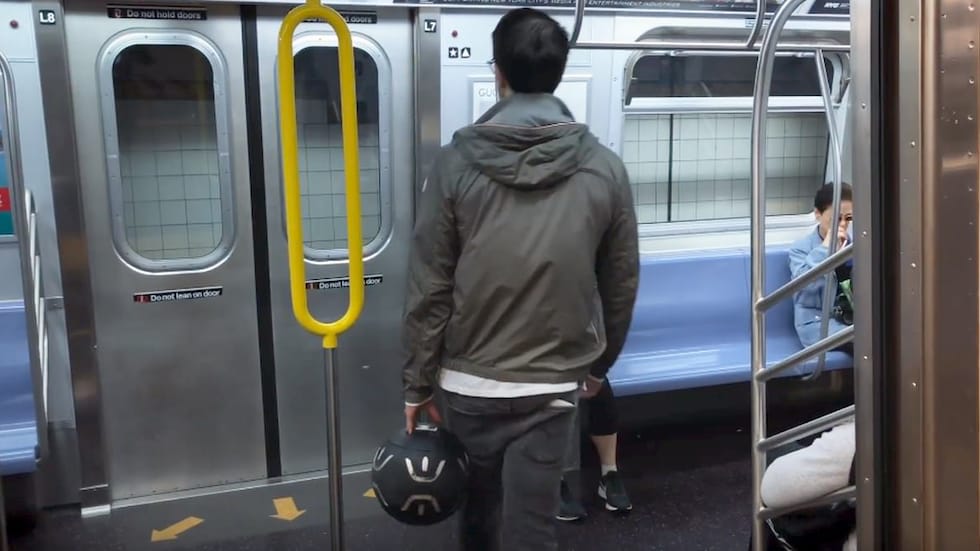 Thomas O'Connell, founder of Moby Products, envisages a future where micro mobility devices like JYROBALL are used for commuting. By providing such means of transportation, the company aims to reduce parking costs and traffic congestion, and even prevent environmental pollution.
Thomas believes that revising road traffic laws is vital and hopes that the development of a regulatory framework for the use of autonomous vehicles will allow the use of micro mobility devices on regular roads and in bicycle lanes.
In addition to JYROBALL, Moby Products plans to release an electric wheel board YX ONE. It is expected that the company will continue to develop new products, giving us more choices in personal mobility devices that make travel fun.
Source: JYROBALL
*JYROBALL cannot be used on public roads in Japan.

Kome

Kome is a fluffy, one-year old Golden Retriever. She inherited the territory from her owner's previous dog, ef. Affectionate and playful, Kome melts everyone's heart with her sweet baby face in contrast to her impressive physique.efrinman Kome's owner. She is an illustrator popular for her dog illustrations and comics.

Kome, the popular Golden Retriever gives it a try! – A dog jacket that uses solar energy

Funny Dress-up Lab

Collage artist. Fascinated by various aspects of decorative stickers, such as their vivid colors, unique shapes, misregistration, and the fact that they are now dead stock, he has been creating collage works using solely decorative stickers without altering them in any way. He will cease creating these works when the current stock in the world runs out.

Dressing up tires with stickers for model cars! BWSC collage art piece by Funny Dress-up Lab

Taku Omura

Product designer. Taku Omura designs personal items, such as household goods and stationery, and develops his own products. His tweet with a hashtag, making proposals for corporate gifts without being asked, often becomes a trending topic on Twitter.

Give it a try! Taku Omura elaborates on solar-powered candy crafts with a magnifying glass