Under BWSC theme "Dream bigger. Go farther," Bridgestone supports challengers in achieving their dreams.
Let us introduce the send-off party held on Aug. 27 at the Australian Embassy in Tokyo for the Japanese teams competing in the 2019 BWSC.
Australian Embassy in Tokyo hosts send-off party for BWSC teams
On Aug. 27, 2019, the Japanese teams participating in the 2019 Bridgestone World Solar Challenge (BWSC) gathered at the Australian Embassy in Tokyo for a send-off party. The BWSC is a 3,000-km (1,875-mi.) race in which student teams from around the world build their own solar cars and drive them across the Australian Outback for five to six days.
Words of encouragement for the Japanese student teams
The party was attended by teams from Tokai University, Goko High School, Nagoya Institute of Technology, and Kogakuin University.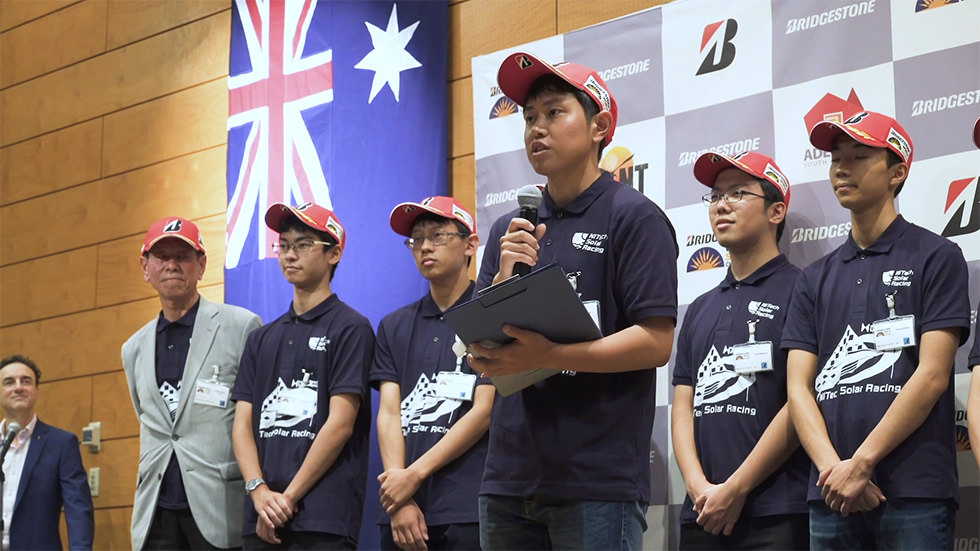 Following heartfelt speeches from each team, Richard Court—the Australian Ambassador to Japan, who hosted the party—took the stage to emphasize the BWSC's significance.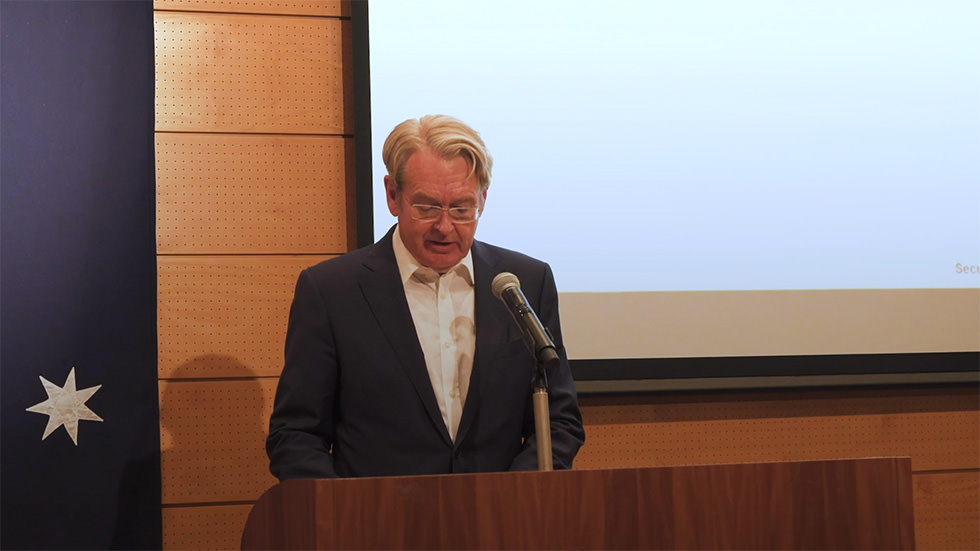 "The BWSC has become the foremost global innovation challenge and the largest solar event in the world," he said. "The mission of the BWSC is to address the imperatives of sustainable transport—and that is even more relevant today than it was when the race was first run in 1987. I look forward to watching this year's event unfold and wish all competitors, teams, officials and contributors the very best of luck for the 2019 BWSC."
He was followed by Masaaki Tsuya—Bridgestone Chairman of the Board, Chief Executive Officer, and Representative Executive Officer—who offered words of encouragement to the young engineers on the teams.
"The BWSC motto," he said, "is 'Dream Bigger, Go Farther.' It's about believing in yourself. It's about pursuing your dream. And it's about marching toward progress. Let us all join each other on this incredible journey. I will be awaiting all of you at the end of the race in Adelaide."
Some final adjustments—and then off to Australia!
Following the party, the teams returned to work, making final tweaks and adjustments to their cars before shipping them to Australia. For example, on Sept. 1—a few days after the party—the Tokai University team conducted test runs at the Bridgestone Proving Ground in Nasu, Tochigi Prefecture.
Not be outdone, the other teams also took their cars out for painstaking testing before sending them off to Australia for the race.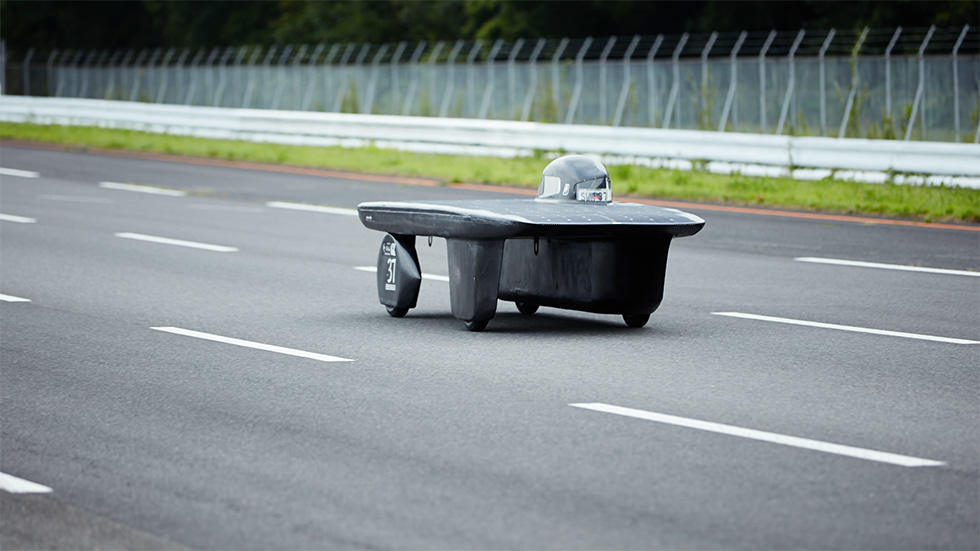 This year's BWSC promises to be no less heated than in previous years. Keep an eye out for the results on this website!

Kome

Kome is a fluffy, one-year old Golden Retriever. She inherited the territory from her owner's previous dog, ef. Affectionate and playful, Kome melts everyone's heart with her sweet baby face in contrast to her impressive physique.efrinman Kome's owner. She is an illustrator popular for her dog illustrations and comics.

Kome, the popular Golden Retriever gives it a try! – A dog jacket that uses solar energy

Funny Dress-up Lab

Collage artist. Fascinated by various aspects of decorative stickers, such as their vivid colors, unique shapes, misregistration, and the fact that they are now dead stock, he has been creating collage works using solely decorative stickers without altering them in any way. He will cease creating these works when the current stock in the world runs out.

Dressing up tires with stickers for model cars! BWSC collage art piece by Funny Dress-up Lab

Taku Omura

Product designer. Taku Omura designs personal items, such as household goods and stationery, and develops his own products. His tweet with a hashtag, making proposals for corporate gifts without being asked, often becomes a trending topic on Twitter.

Give it a try! Taku Omura elaborates on solar-powered candy crafts with a magnifying glass