Under the BWSC theme 'Dream bigger. Go farther,' Bridgestone supports challengers in achieving their dreams.
Today, we are meeting Yasunaga Ogita, the only Japanese Arctic explorer, who continues his adventure toward the North Pole.
Solo, but not alone: How Arctic adventurer Yasunaga Ogita discovered the excitement of the new in social interaction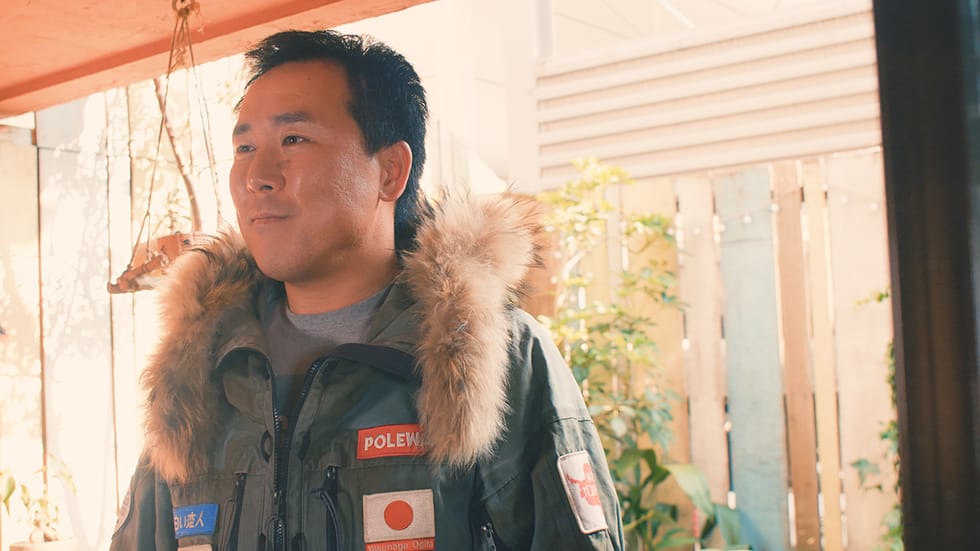 "If you want to go fast, go alone. If you want to go far, go together."
Temperatures that drop below -20°C. Not a single person for hundreds of kilometers in any direction. Ice that can crack at any moment, covered by a thick layer of constant snow. The Arctic Circle is a lonely, dangerous place—but one adventurer attempted to traverse it for almost 50 days to reach the North Pole, all by himself and without picking up provisions along the way. His name is Yasunaga Ogita.
Ogita has made a name for himself with his daring solo expeditions. Yet, when asked what it means to "Dream bigger. Go farther."—the BWSC slogan—he emphasizes the importance of working as a team. We sat down with Ogita to talk about this apparent contradiction, as well as his career to date.
Traveling to the Arctic Circle in search of change
Ogita first traveled to the Arctic Circle in 2000, inspired by a TV program featuring adventurer Mitsuro Oba.
"I was 21 at the time," Ogita recalls. "I'd just left university a few months before—I wasn't enjoying the experience, and I just kind of ran away. So there I was, drifting aimlessly through life and hating it. I began to panic that at this rate, time would pass without me having accomplished anything. Then one day, I was watching TV when Mr. Oba appeared on a show and talked about organizing an expedition to the Arctic Circle with a group of young people. I thought, 'Maybe if I join this trip, my life will change.'"
Ogita wrote to Oba and was invited to join the expedition. After obtaining a passport for the first time, Ogita left Japan in 2000 on the first overseas trip of his life, ready to tackle the 700 km trip across the Arctic Circle. However, the journey ended up being less life-changing than Ogita had hoped.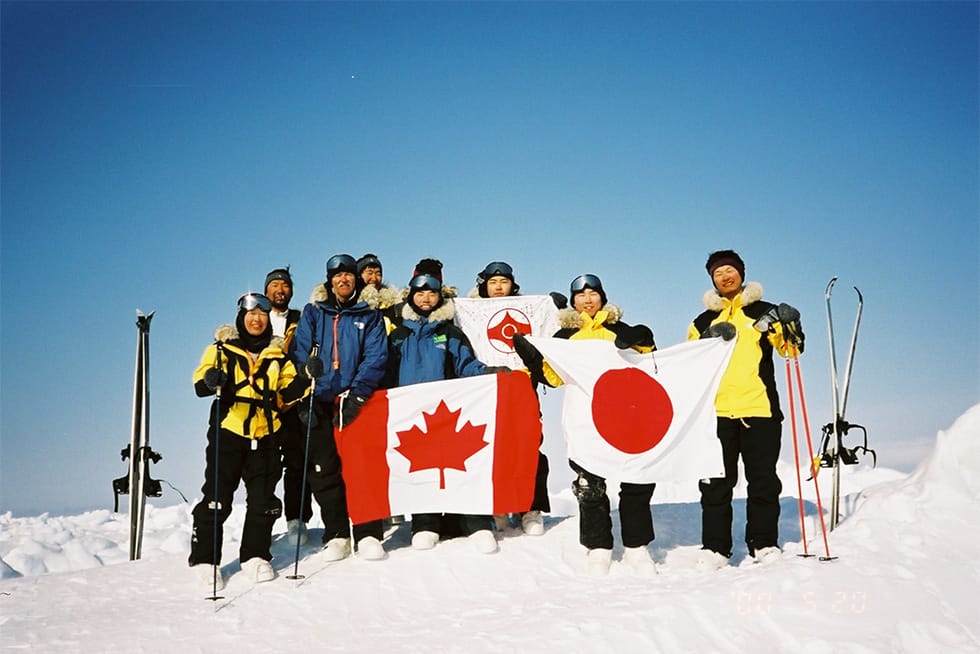 "I came home to Japan and immediately went back to my routine," he says. "I had no goal and worked part-time jobs—every day was as familiar as the next. I'd gone to the Arctic Circle, but nothing had changed."
In an attempt to break out of his routine, Ogita decided to visit the Arctic Circle once a year. He says he didn't have any particular attachment to the place—he simply felt that he needed to do something.
"I felt that I needed to take action rather than once again waiting for someone to offer me an invitation to travel outside Japan," he says. "But the only place I knew apart from Japan was the Arctic Circle; that's why I decided to go there. For the next few years, I saved up while working part-time jobs and used the money to go to the Arctic Circle once a year. For every trip, I changed my goals slightly so I could take on greater challenges."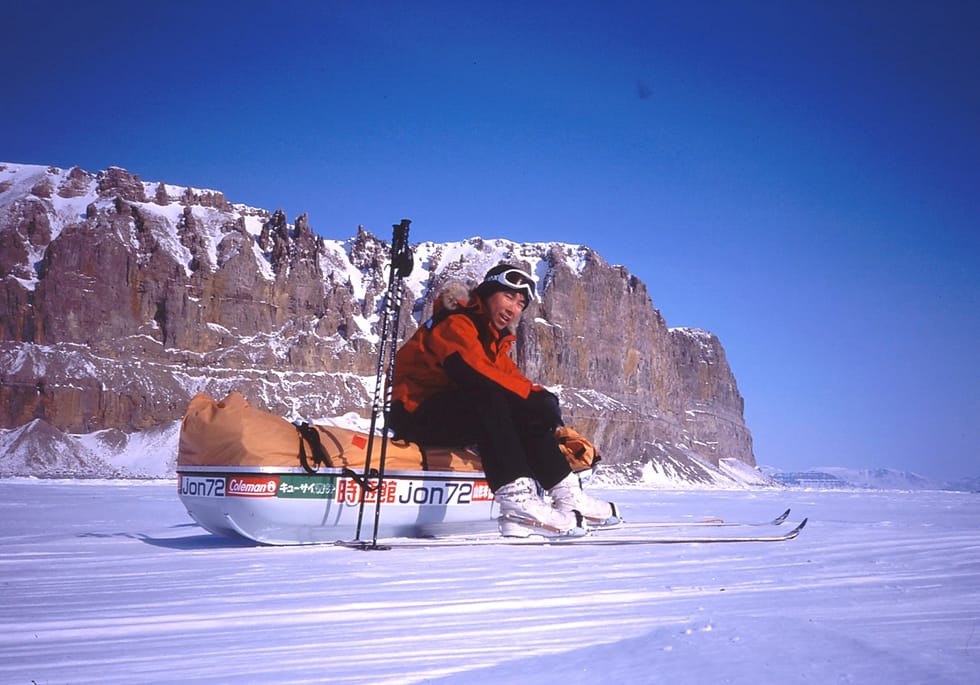 But the Arctic Circle is a very large place. That's why first-time explorers typically plan routes that take them through as many Inuit villages as possible, and gradually increase the distance between villages in subsequent trips. The greater the distance traveled on uninhabited land and the more days the journey takes, the more difficult the trip is. Another factor affecting the trip is the ice—flat ice is much easier to navigate than rugged ice. Taking these factors into account, Ogita gradually increased the difficulty of his route and built on his experience one trip at a time.
An accident, and taking on the greatest challenge of all
The turning point for Ogita arrived in 2007.
For six years, Ogita had traveled the Arctic Circle without making any serious mistakes or suffering a major disaster. As he embarked on his seventh expedition, he was more confident than ever in his ability to traverse this hostile landscape. However…
"A fire broke out in my tent," Ogita says. "Half my tent burned down, and I suffered huge burns on both arms and my right leg. There was no one for 500 km in any direction, but at least I managed to get rescued. When I look back, I realize that I had become cocky and a bit sloppy after seven years of doing this. As a result, I made a very stupid mistake."
This near brush with death gave pause to Ogita about returning to the Arctic Circle.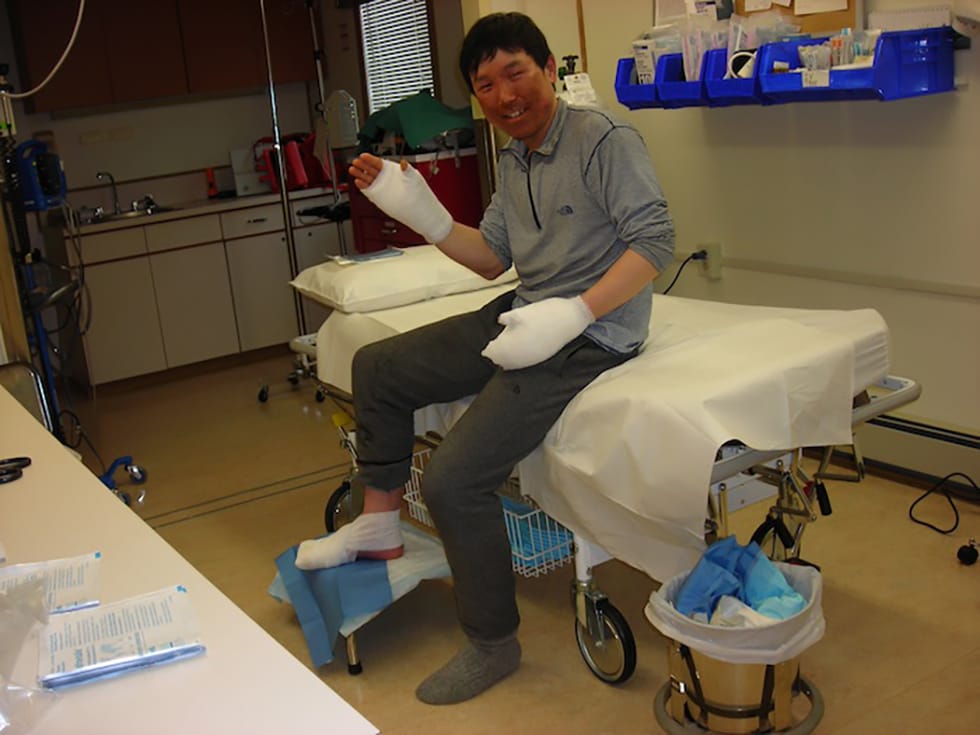 "For a few years, I didn't go back," he says. "I thought about quitting altogether. But after a while, I began to hate myself for making such a stupid mistake. Gradually, this urge to prove myself began to build up inside of me, and in 2010, I returned to the Arctic Circle for the first time in three years."
Following this comeback expedition, Ogita decided to tackle the greatest challenge of all: Traveling solo and unsupported to the North Pole.
"Having fallen once, I felt I needed to aim much higher than usual to get back up," he explains. "I decided to pursue the most difficult goal, which is traveling to the North Pole solo and unsupported."
Until then, only two people had successfully reached the North Pole solo and unsupported: Børge Ousland from Norway (1994) and Pen Hadow from Britain (2003). But every year, the trek becomes more difficult due to disfigurement in the ice formations caused by global warming. This did not stop Ogita, however; if anything, it only encouraged him to meet this challenge, and it's what continues to drive him today, almost twenty years since the last person accomplished the feat.
Solo, but not alone
Traveling to the North Pole unsupported means not picking up provisions along the way. To accomplish such a feat solo, Ogita needed to pack over 100 kg of luggage and transport it all by himself over the 800 km distance to the North Pole—an almost 50-day journey.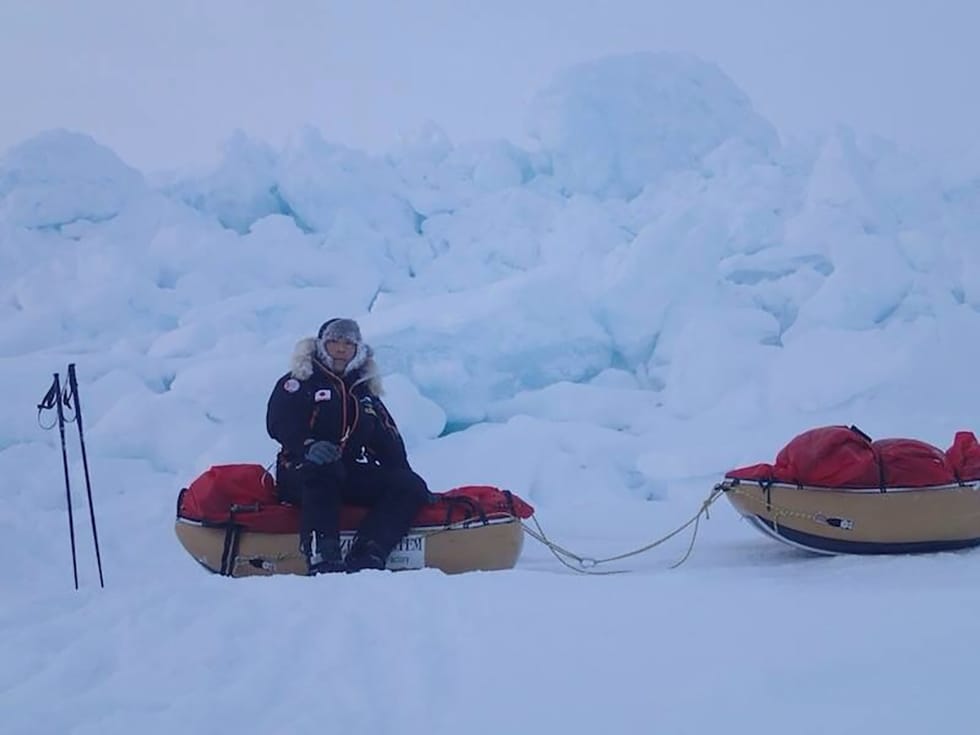 From Ogita's 2014 expedition
Ironically, Ogita quickly realized he could not achieve such a goal without proper support at home in Japan. He would need supporters who could assist him before and during the journey, as well as sponsors to raise funds for his trip. For a long time, Ogita had planned his Arctic Circle trips without relying on others. Now, he would need to meet and talk to a wide range of people and companies to accomplish his goal.
"Back when I was working part-time jobs to fund my trips, I was in a way living outside of society," he says. "But it wasn't that I hated society or was scared of it. Even back then, I knew that as I raised the level of difficulty and scale of my expeditions, there would come a time when I would need to gather people and more money to be able to conduct my trips. Well, that time had arrived."
First, he looked for sponsors. In his first few trips, Ogita traveled between villages that can be accessed by regular flights. This allowed him to keep his travel costs between 1 and 2 million yen (about 9,300 – 18,600 USD). However, expeditions to the North and South Pole require chartering a plane both to the starting point and from the end point, which astronomically increases the costs to about 20 million yen (187,000 USD). Ogita knew he could not afford this trip without outside funding.
"I started going to the Arctic Circle soon after quitting university, so I didn't have the kind of social experiences you get by looking for jobs or working at a company," Ogita says. "I didn't even know where to start, so for about a year or two, I started cold-calling companies to give myself a crash course in how society works. Needless to say, none of these companies immediately jumped at the opportunity to sponsor me. But the more companies I visited, the more I encountered people who saw value in what I was attempting to do. Some couldn't support me financially, but they introduced me to people who could or regularly contacted me for updates. Little by little, I built up a support base."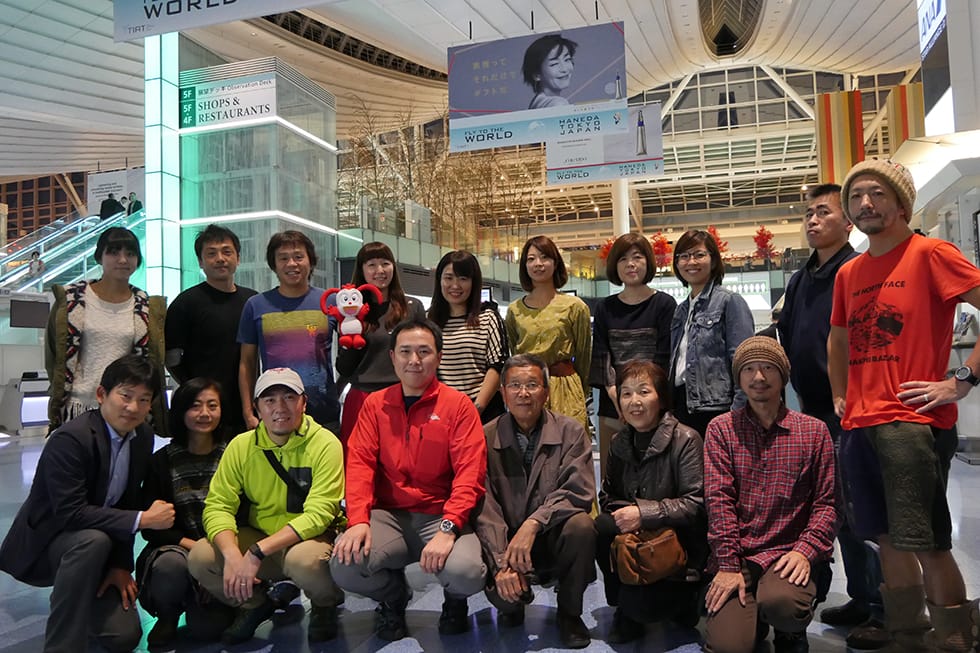 Ogita's supporters
In addition to funding, Ogita also required a team who could provide him with logistics support and make various arrangements for him from Japan. According to Ogita, these supporters came to his aid organically; he hadn't contacted a single one for help.
"Apparently, my efforts to cold-call these companies and fight for funding had not gone unnoticed," Ogita laughs. "Before I knew it, there were all these people flocking to my side, intrigued by this crazy guy who wanted to go to the North Pole. They all wanted to help out of sheer fascination."
As far as Ogita was concerned, his sponsors and supporters were like teammates who shared the same goal of wanting to reach the North Pole. "When you travel alone, you can only do things that are within your capacity," he says. "But when you're traveling with a team, you can cover for each other's weaknesses and do things that are greater than the sum of your individual capacities."
Ogita isn't saying that one shouldn't travel on one's own. He's simply saying that having a team with you can considerably boost your abilities—and also your mental strength. "Having a team is great for morale," he says. "You might be physically alone out there in the Arctic, but that's different from being mentally alone. When you have people who know what you're trying to accomplish and support that goal, you're never alone inside."
Passing on the torch to a new generation
It was around this time that Ogita started becoming aware of himself as a member of the larger culture and society. One way in which he demonstrates this is by actively working to hand down the experiences and knowledge he has accumulated through his expeditions to a new generation of adventurers.
"Around 2012, when I made my first attempt to travel solo and unsupported to the North Pole, I began wondering if there was a way I could use what I'd experienced and learned through my trips to benefit others," Ogita says. "It was then that I realized that just as Mr. Oba introduced me to the Arctic Circle, Naomi Uemura [the first man to reach the North Polo solo] had advised Mr. Oba on his first expedition. And Uemura surely had his own teachers. As I interacted with more people, I came to realize that I had been handed a torch that I needed to pass on to the next person. That's how I came up with the ideas for 100milesAdventure and adventure walks in the Arctic Circle."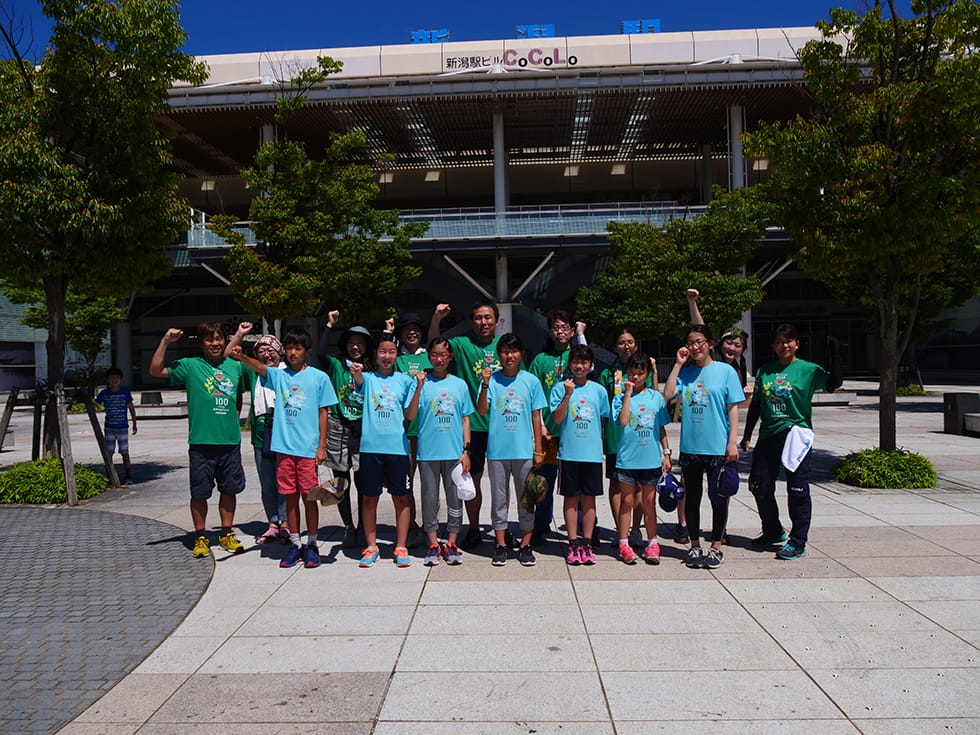 From the 2018 100milesAdventure program
100milesAdventure is a program for elementary school kids that involves tackling a 100-mile hike over several days. However, there are no lessons on outdoor and survival skills; Ogita is more interested in helping children discover opportunities for growth while being themselves as they walk, eat, and chat with friends.
"What's important is for the adults to avoid placing expectations on the kids," Ogita explains. "Once we start telling them what they're supposed to get out of an event, then they'll think, 'Okay, I guess that's what I'm supposed to do.' But no two people experience the same event in the exact same way. My job is to give these children a platform where they can have fun, while also keeping an eye out for spontaneous moments in the children's interactions that I can use as a learning opportunity."
The adventure walk is for young adults and involves trekking 600 km in the Arctic Circle. In 2019, the 12 participants included university students, company employees, part-time workers, and people between jobs; their average age was 23. For one month, they traveled across the Arctic Circle. At night, they slept in tents and sleeping bags—an experience that was new to some of the participants.
"For the first two weeks, I lead the participants and navigate our route," Ogita says, "But in the last two weeks, I put the participants in charge of navigation. I teach them how to read maps and use compasses, how to orient oneself based on the sun's position and time of day, how to read snow ripples caused by the wind, and other techniques, and then leave them to figure out how to proceed. It's not easy at first, since this is all new to them. But they tackle the task seriously, because they know that one small mistake could lead us into danger or make us travel further than we have to."
Ogita adds that the program leaves the participants wanting more—which he says is a good thing when he considers his own experiences.
From the 2019 adventure walk
"In the beginning, there's a lot of uncertainty among the participants. Are we really able to walk 600 km? But in the end, we all make it to the finish line. The truth is, as long as there's someone experienced such as myself managing the journey, anyone can do it. But just as they've reached the goal, feeling confident and ready to do more, they have to go home—and it feels a bit anticlimactic. I didn't intend for this to happen, but then I remember feeling the same way about my first trip to the Arctic Circle with Mr. Oba. It was that itch for more that drove me to make my next trip. Give young people a little taste, and it goes a long way."
For Ogita, both programs are a way to show young people a world of new possibilities, just as Oba had done for him.
"Children are basically small adults, and young adults are basically big children," Ogita says. "Although I interact with the participants of the two programs differently, my goals are the same in either program. My job is to open a door to a new world and invite the participants inside."
Exploring a new kind of uncharted territory: Society
Ogita attempted reaching the North Pole solo and unsupported twice, in 2012 and 2014. Both times, he failed to make it to the end. However, in 2016, he successfully walked solo from Canada to Greenland—a 1,000 km trip. In 2018, he made it to the South Pole solo and unsupported. With every trip, he is brushing up the skills he will need to finally reach the North Pole.
When asked how he thinks his challenges to date relate to the BWSC slogan—"Dream bigger. Go farther."—he emphasizes the importance of having a team.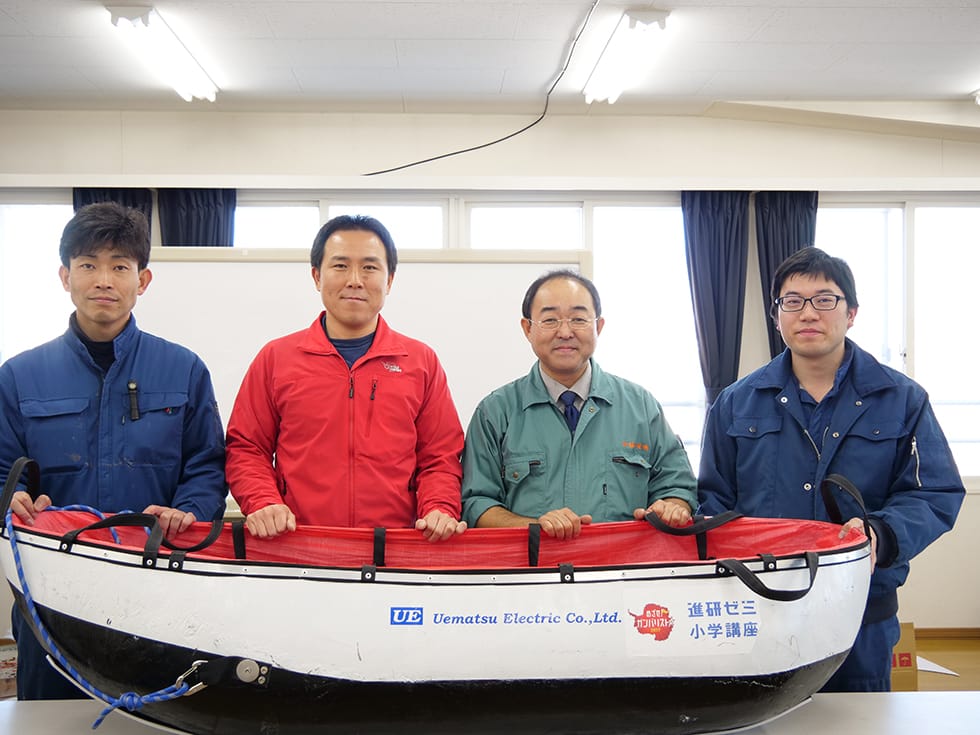 For example, he likes to ensure that every piece of equipment he takes with him is of the highest quality. When deciding on a sled, he decided to directly contact rocket engineer Tsutomu Uematsu to design one. Uematsu—who we interviewed in a previous column—agreed and is now one of Ogita's teammates.
"There's a saying I've heard," he continues. "'If you want to go fast, go alone. If you want to go far, go together.' Even as I'm crossing the Arctic solo, I'm aware that I'm only able to take on this challenge because I have a dedicated team supporting me from afar. You're limited in how much you can do alone. The bigger your dreams are, the more people you need to achieve it."
Attempting to reach the North Pole, passing on his experiences to a new generation of adventurers: Ogita has committed himself to these goals not only to give himself a purpose, but also to play a strong role in society—and that's perhaps why he has managed to climb to such heights in his career. He may have once traveled through life solo, but today, he is enthralled by the benefits of social connection.
"These days, I'm more interested in finding ways to incorporate my own experiences and activities into society," Ogita says. "I'm not going to stop attempting to reach the North Pole, but in my search for sponsors and teammates to support my expeditions, I've found myself venturing into a different kind of uncharted territory—society. And I feel the same excitement I experience every time I encounter scenery I've never seen before. That's why I want to put more effort into interacting with society and other people."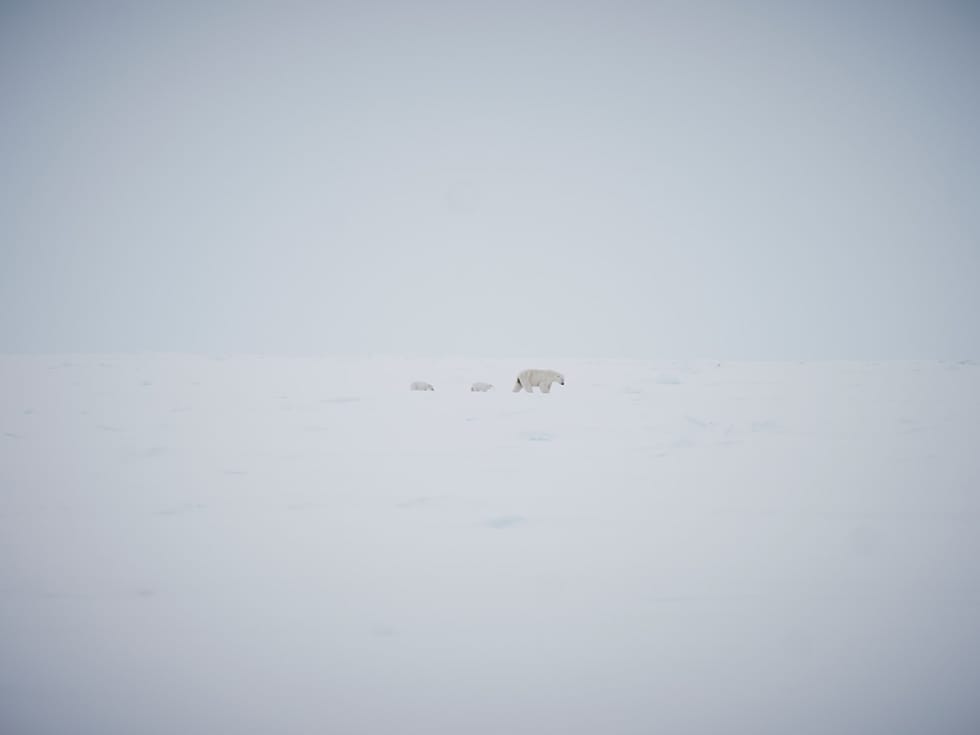 Kome

Kome is a fluffy, one-year old Golden Retriever. She inherited the territory from her owner's previous dog, ef. Affectionate and playful, Kome melts everyone's heart with her sweet baby face in contrast to her impressive physique.efrinman Kome's owner. She is an illustrator popular for her dog illustrations and comics.

Kome, the popular Golden Retriever gives it a try! – A dog jacket that uses solar energy

Funny Dress-up Lab

Collage artist. Fascinated by various aspects of decorative stickers, such as their vivid colors, unique shapes, misregistration, and the fact that they are now dead stock, he has been creating collage works using solely decorative stickers without altering them in any way. He will cease creating these works when the current stock in the world runs out.

Dressing up tires with stickers for model cars! BWSC collage art piece by Funny Dress-up Lab

Taku Omura

Product designer. Taku Omura designs personal items, such as household goods and stationery, and develops his own products. His tweet with a hashtag, making proposals for corporate gifts without being asked, often becomes a trending topic on Twitter.

Give it a try! Taku Omura elaborates on solar-powered candy crafts with a magnifying glass