We are thrilled to hold the 2017 Bridgestone World Solar Challenge and very pleased with all the incredible support. Our group has served as title sponsor in 2013 and 2015, and it is our honor to continue again this year.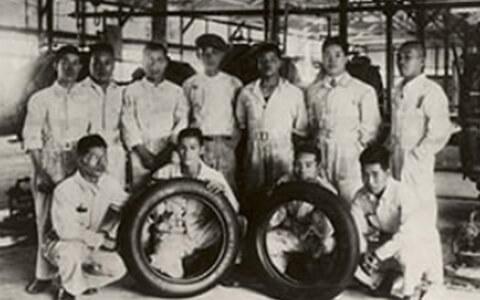 Shojiro Ishibashi established the Bridgestone Corporation in 1931 and defined our corporate mission: "Serving Society with Superior Quality".
We now serve and operate in 150 countries through more than 180 manufacturing and development plants located in 26 countries.
Accumulating past experience and knowledge, our group established a new CSR (Corporate Social Responsibility) structure this March based on our corporate mission. The new structure, titled "Our Way to Serve", focuses on three priority areas, "Enhancing Mobility," "Supporting People and Communities," and "Advancing Environmental Stewardship." Through these priority areas, we strive to continue making a positive impact on society and the world as a whole.
PRIORITY AREAS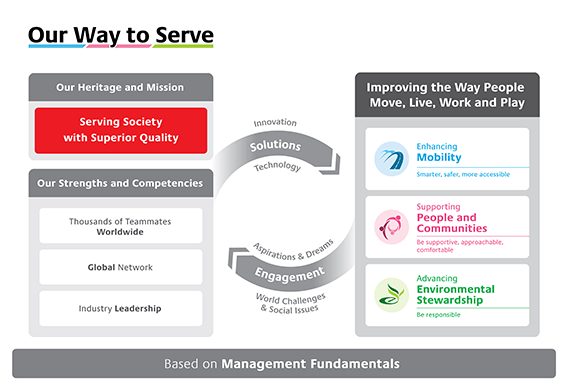 The objective of this event is to develop environmental technologies such as solar powered vehicles, and to provide educational opportunities for young engineers. All of this ties in with our CSR structure, "Our Way to Serve".
We sincerely hope that through our sponsorship, we can help improve the way people move, live, work and play.
Through our continuous contribution to environmental technologies, such as our "ECOPIA with ologic" tyre that reduces CO2 emissions and increases fuel efficiency, to be used in the 2017 Bridgestone World Solar Challenge, we wish to share our message - attaining a sustainable society, and supporting the dreams of young engineers throughout their journey.
We hope you will enjoy the futuristic race featuring solar cars that are created with the skills and passion of each participating team. We sincerely wish you all to be a success.
Takashi Tomomoto
Senior Vice President and Executive Officer
CMO & Marketing Solution Strategy
Bridgestone Corporation