The Indy 500® will start again this year!A traditional race that the world is paying attention to.
The Indianapolis 500®, one of the biggest events in motorsports, kicked off the Month of May at Indianapolis Motor Speedway in Indiana, USA. Currently held as part of North America's premier racing league, the NTT INDYCAR® SERIES, the event was first held in 1911 and this year marks the 105th running. It is said to be one of the three most prestigious motor races in the world along with the F1 Monaco Grand Prix in the Principality of Monaco and the Le Mans 24-hour endurance race held in France, attracting attention from all over the world.
A field of 33 drivers will race 200 laps, around the Indianapolis Motor Speedway for 500 miles (805 km), completing 2.5 miles (about 4.023 km) per lap at speeds close to 370 km/h. The driver who wins this iconic race will not only leave his mark on history, but will also win a prize of over 100 million yen (1 million dollars). It is a one of a kind event that leaves you amazed by its scale, history, speed, popularity and prize money.
Bridgestone provides Firestone brand tires to support the Indy 500®. Going back in history, Firestone has been a part of the Indy 500® since Ray Harroun's Firestone-equipped Marmon Wasp won the inaugural Indianapolis 500® in 1911.. Since 2002, Firestone has been the exclusive tire supplier for the INDYCAR SERIES, including the Indy 500®, supplying more than 26,000 tires annually. More than 5,000 of these tires will be used at this year's race.
■Battle of nine successive champions! 105th tournament with lots of highlights
This year there are 35 entries (33 cars can run in the final), and the list includes 13 American drivers and 22 overseas drivers. The entry list also features nine previous Indy 500® winners – the most since 1994, including three-time winner Helio Castroneves (2001/2002/2009 championship), two-time winner Juan Pablo Montoya (2000/2015 championship), Scott Dixon (2008 winner), Tony Kanaan (2013 winner), Ryan Hunter-Reay (2014 winner), Alexander Rossi (2016 winner), Will Power (2016 winner), Simon Pagenaud (winner in 2019), and two-time winner Takuma Sato (winner in 2017/2020).
With the changes made to the aerodynamic rules, cars will be able to battle for position closer than ever before. As a result, it is expected that the race will be a close, unpredictable battle until the checkered flag is waved.
Due to the pandemic caused by the new coronavirus infection, the event was held without spectators in 2020, but this year, it was decided the event will run in front of fans with reduced venue capacity of 40% - approved by the local public health bureau. Given that the number of permanent spectators is about 260,000, and the maximum capacity is about 400,000, even if we limit the capacity to 40%, the race is expected to host about 135,000 spectators. With the cheers of enthusiastic race fans returning to the circuit this year, it is inevitable that the venue will be a lively one.
■Will Takuma Sato win back-to-back Indy 500® races? The final race will be held on the 30th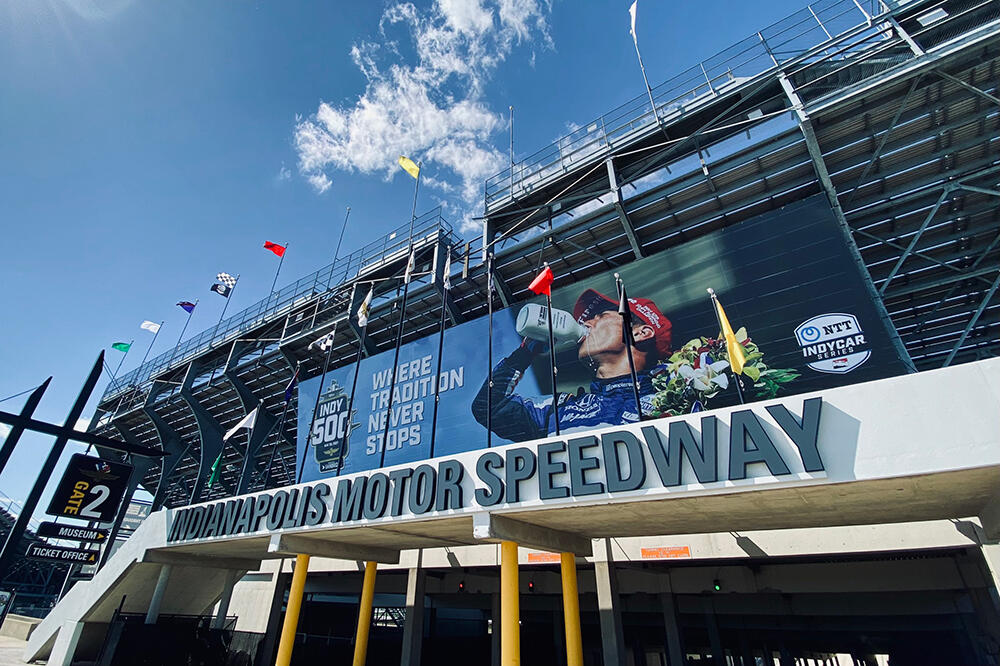 Even with a strong field of competitors Takuma Sato, who is celebrating his 12th Indy 500®, is sure to be part of the conversation of drivers in contention. Takuma Sato was the first Japanese to win the Indy 500® in 2017, and last year he won his second Indy 500®. This year, he will challenge for a win in row five as defending champion. Takuma Sato has driven Firestone's racing tires his entire career, ever since he started in the INDYCAR® SERIES in 2010. As Firestone/Bridgestone, we can't help but expect his success!
On display at Bridgestone's corporate museum "Bridgestone Innovation Gallery" in Kodaira, Tokyo, is a replica of Takuma Sato's race car from his 2017 Indy 500® win.
Takuma Sato, now 44 years old, said in an interview before the race that he would like to win more INDYCAR races to get closer to his beloved A.J. Foyt. (A.J. Foyt is a driver who holds a total of four Indy 500® wins / in 1961/1964/1967/1977. He also holds the record for oldest driver at the INDY500 at the age of 57 in 1992.) Sato is looking forward to the 105th Running of the Indianapolis 500 because he is confident in his practice setup and strategy.
The final practice is on May 28th, and the race will start at 12:45 local time on May 30th. Who will win? Will Takuma Sato win back-to-back years? Be sure to follow the 2021 Indy 500®!
<Message from Takuma Sato>
Although the Coronavirus disease (COVID-19) continues to cause anxiety every day, I would like to thank all the sponsors, the NTT INDYCAR® SERIES, the government of Indiana, and so many other people for their cooperation and support of the Indy 500® as we welcome fans back this year. I'm really honored to see my picture used on many items like tickets and billboards here. Firestone is the official tire of the Indianapolis 500® and its tires have carried the winner of the Indy 500 to victory circle more than any other tire manufacturers. This year marks the 105th running of the event and I will be defending my title As a Bridgestone driver, I'm proud to be racing in the historic Indy 500® with Firestone.
Focused on race day, we will work as one team to challenge ourselves during practice. I will do my best to wear the Firestone cap in Victory Circle again, thank you so.