"Long Life", "Smooth Handling" and "Comfort Riding"
"BATTLECRUISE H50" invites American V-twin riders for breezy cruising…

Cruising in relaxed style on big displacement American cruisers.
This is where the BATTLECRUISE H50 promises to lead you. "Long Life", "Smooth Handling" and "Comfort Riding" are the key features that H50 offers.
The rear tire can claim a long life as much as 2.7 times of the EXEDRA MAX.
Its handling capabilities allow even bikes of nearly 300kg to turn smoothly at both low and high speeds, minimizing fall-in characteristics in turns.
By reducing the transmissions of vibration of V-Twins, it provides a comfortable ride and helps to prevent fatigue, even when touring over long distances.
With the BATTLECRUISE H50, designed specially for big-displacement American cruisers, we want you to savor the laid-back cruising of the V-Twin.
Comfort with less fatigue
By optimizing rigidity distribution (vertical spring rate), the front tire absorbs energy inputs from the road surface while maintaining rigidity, reducing vibration through the handlebars.
Imperfections on the road surface are well damped. You will realize a real comfort touring with reduced fatigue even at long distance cruising.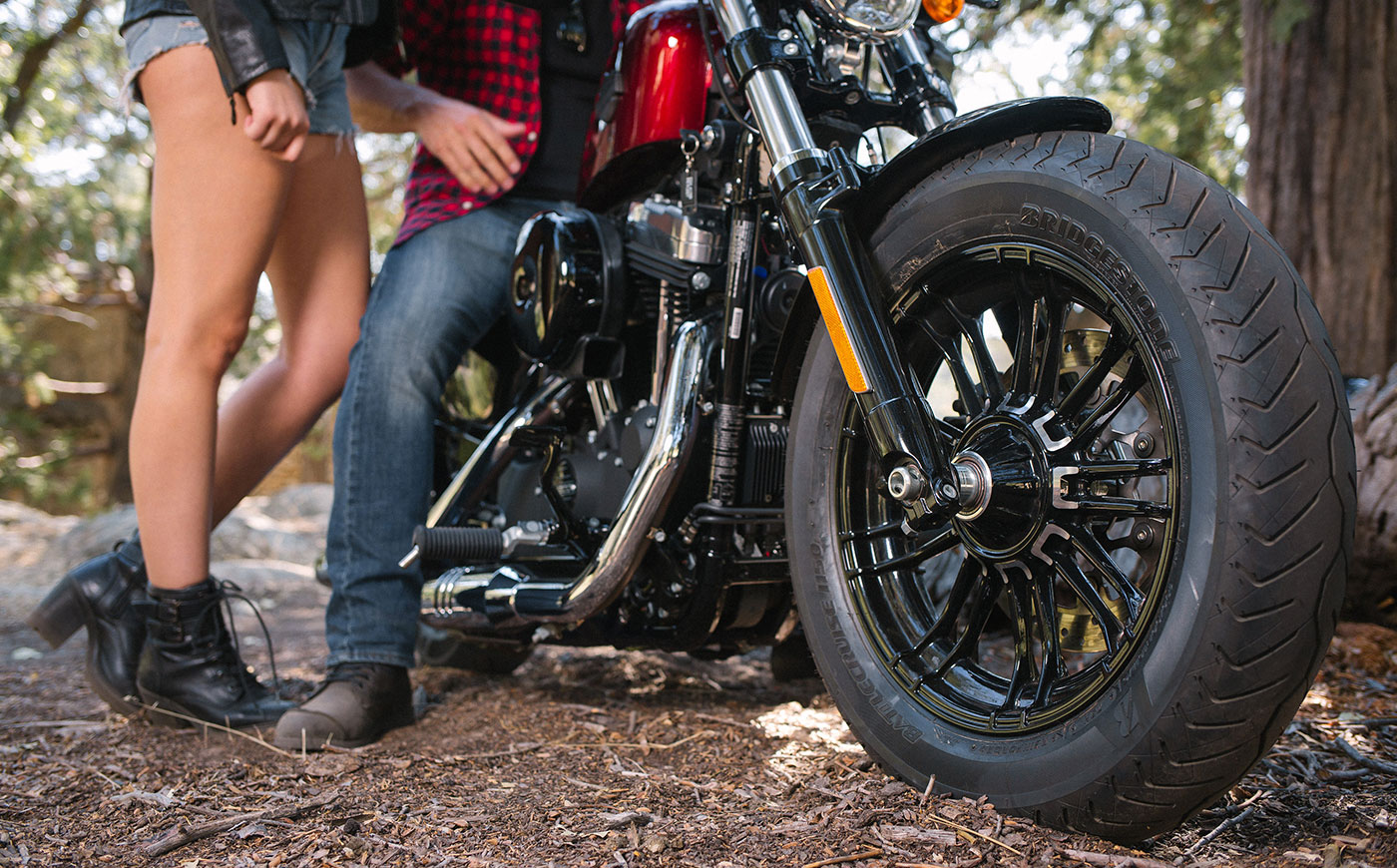 Significant improvement on wear life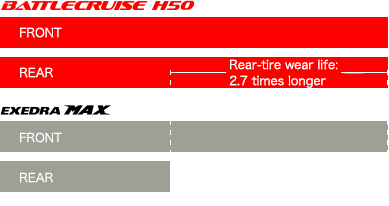 Test location:

General public roads in the U.S.
Test vehicle:

Heritage Softail Classic
Tire size:

Fr) 130/90B16M/C, Rr) 150/80B16M/C
Rim width:

Fr) 3.00×16M/C, Rr) 3.00×16M/C
Air pressure:

Fr) 250kPa, Rr) 280kPa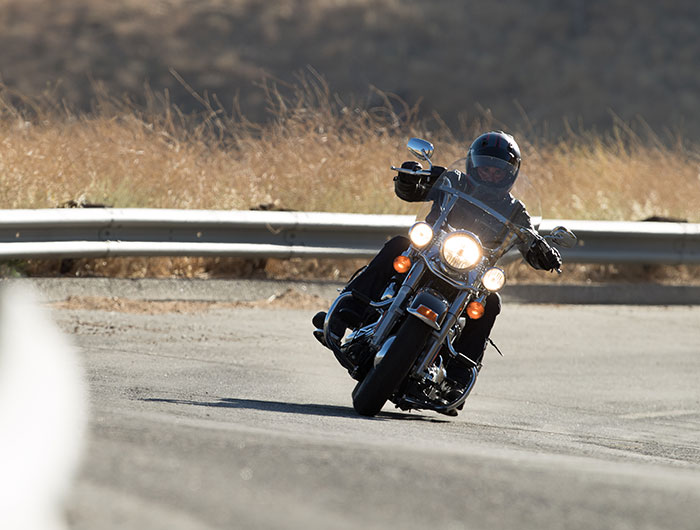 Smooth handling
Using ULTIMAT EYE™ , the contact properties were analyzed to optimize the tire shape and structure accordingly.
This resulted in the generation of significant camber thrust, improving cornering grip and enhancing handling performance.
The large and uniform contact properties secures high stability in any lean angle.
Even on heavy machines that do not turn in quickly, control becomes easier and more enjoyable for the rider.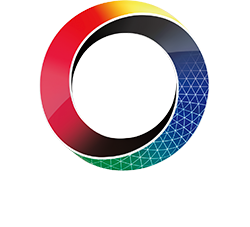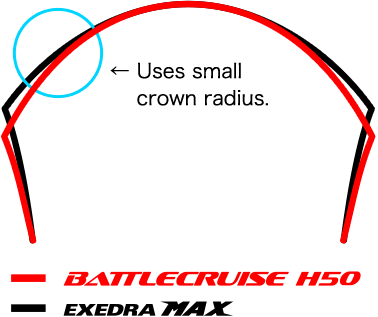 Tread Pattern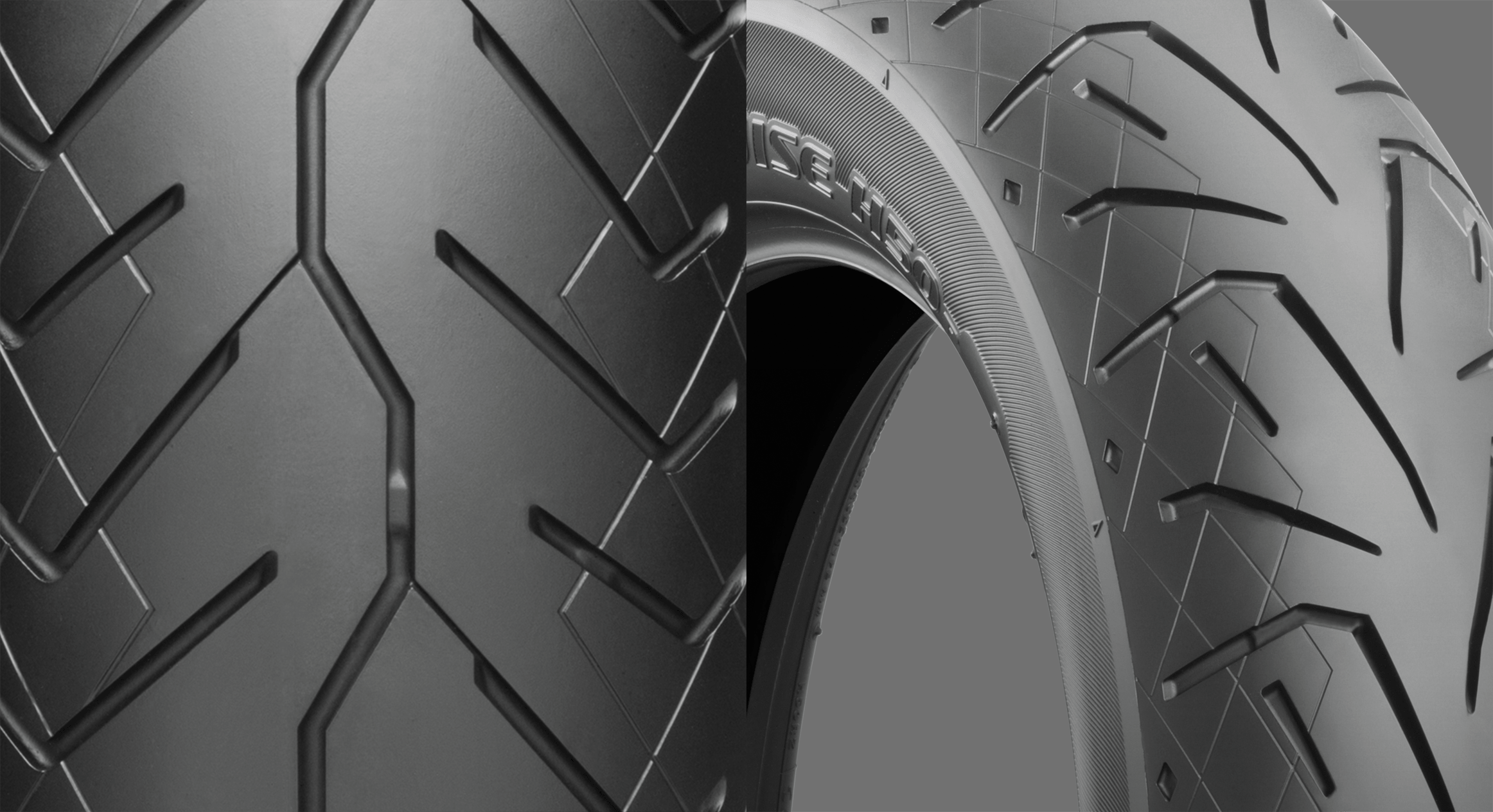 The tread pattern design of the BATTLECURISE H50 has been employed from EXEDRA MAX, adding diamond cut deco-grooves for the design enhancement.
Our pattern designer was inspired by leather craft stitches to come up with these deco-grooves.
BATTLECRUISE H50 Launch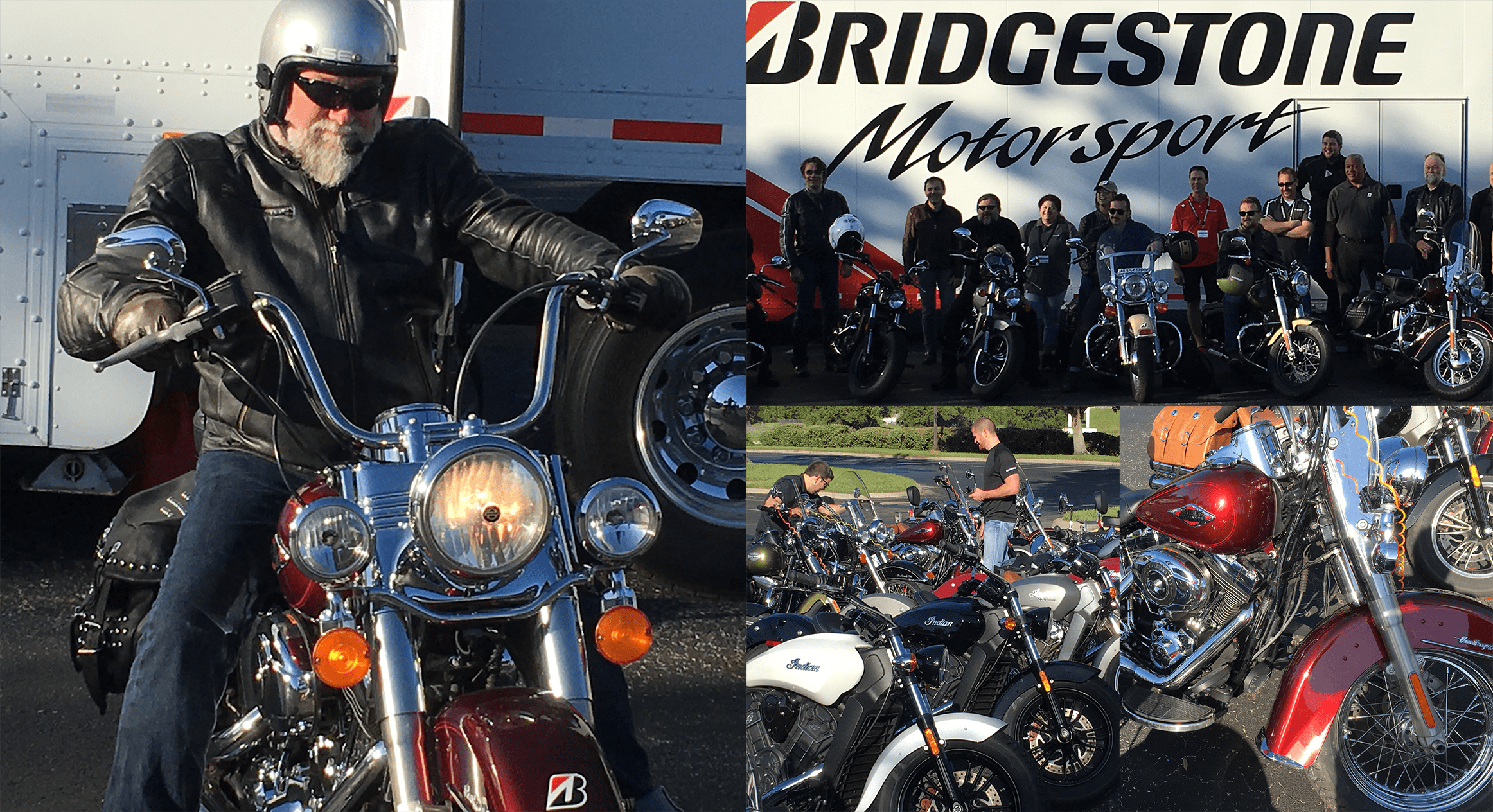 The 3 day launch event for media was held in the vicinity of Orlando Florida near the Apoka lake during Oct.17th through 20th, 2016.
Find the video including some interviews from the link below.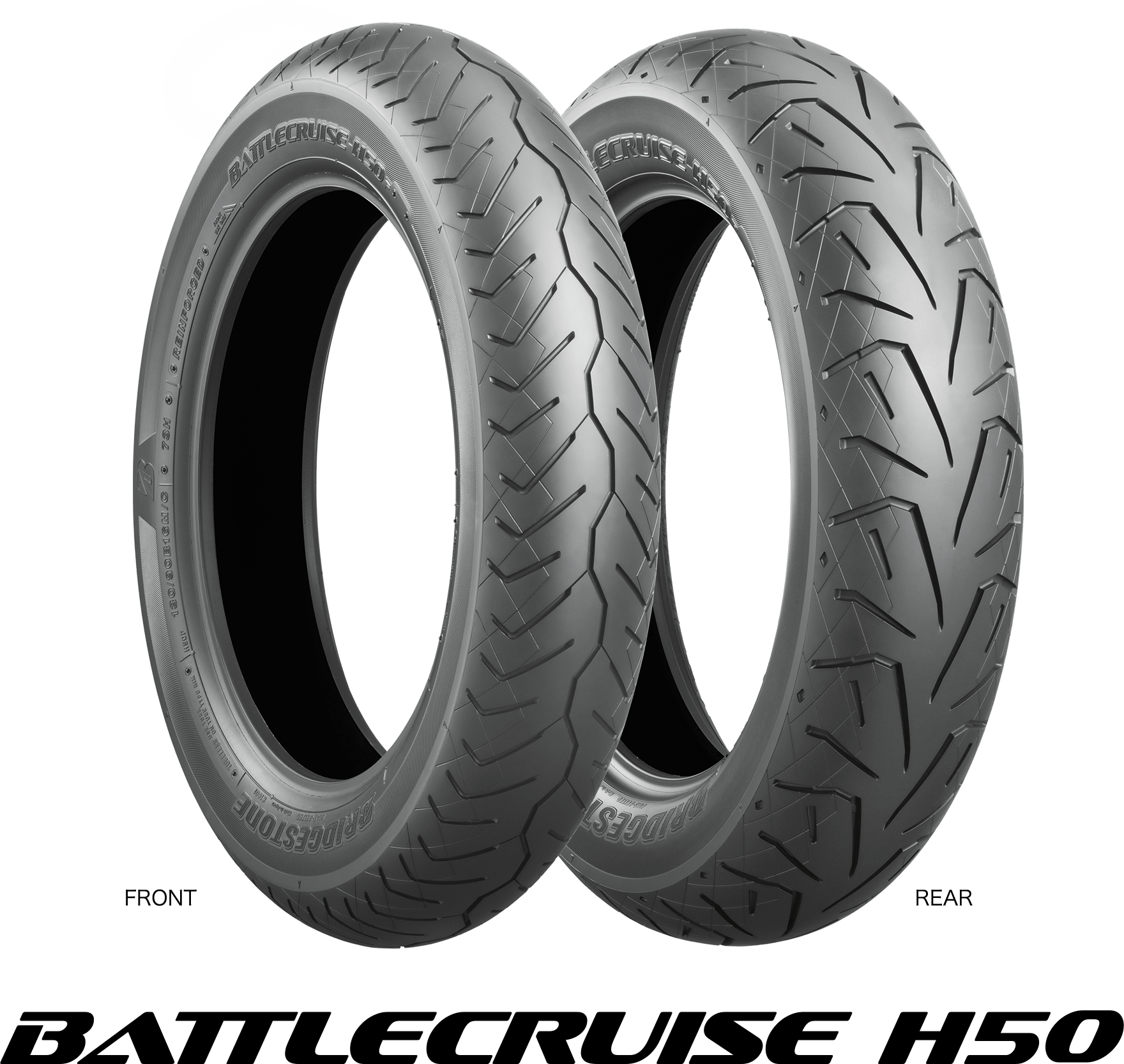 Tire Size
2017 February
FRONT

130/90 B16 M/C 73H TL

130/90 B16 M/C 67H TL

100/90 B19 M/C 57H TL

80/90 -21 M/C 54H TL

REAR

130/90 B16 M/C 73H TL

140/90 B16 M/C 77H TL

150/80 B16 M/C 77H TL

160/70 B17 M/C 73V TL
This products size are scheduled to be released on 2018 February
FRONT

130/80 B17 M/C 65H TL

140/75 R17 M/C 67V TL

120/70ZR18 M/C (59W) TL

130/70 B18 M/C 63H TL

120/70ZR19 M/C (60W) TL

130/60 B19 M/C 61H TL

130/60 B21 M/C 63H TL

REAR

180/65 B16 M/C 81H TL

180/70 B16 M/C 77H TL

150/60ZR17 M/C (66W) TL

180/60 B17 M/C 75V TL

200/55 R17 M/C 78V TL

180/55 B18 M/C 80H TL

240/40 R18 M/C 79V TL
※ Do not use with MTM rims, CM contour rims or WM rims manufactured before 1977.
※ Please contact the tire manufacturer for the combination of tire and rim.