Bridgestone Supporting Teams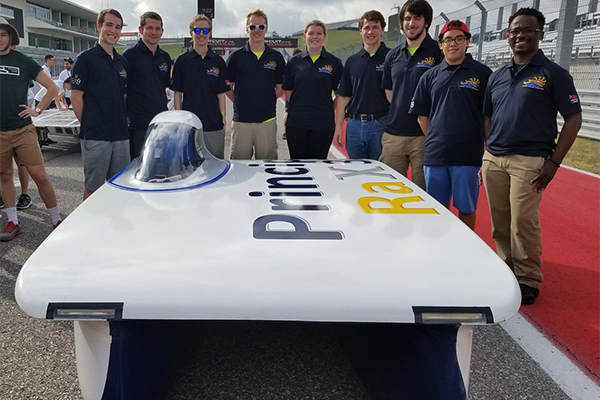 No.32
Bridgestone Supporting Teams
USA / Principia Solar Car Team
Principia College
One Mind * One Light * Infinite Rays
USA / Principia Solar Car Team
Principia College
Class
Challenger Class
Team Name
Principia Solar Car Team
University Name
Principia College
Car Name
Ra X
Team
Establishment
1991
BWSC Entry
The 5th time
Past results for solar car events
Bridgestone World Solar Challenge
・2009 (7th)
・2003 (6th)
Abu Dhabi Solar Challenge
・2015 (6th)
American Solar Challenge
・2016 (5th)
・2014 (5th)
・2012 (3th)
・2005 (7th)
・2003 (4th)
・2001 (7th)
North American Solar Challenge
・2008 (2nd)
Formula Sun Grand Prix
・2001 (1st)
Phaethon Cultural Olympiad
・2004 (3rd)

Characteristics of team
Our team is comprised completely of undergraduate liberal arts students. We pride ourselves on our ability to design, build, test, and race a solar powered car with individuals who have the desire to learn new things outside of their normal classes.
Team's "ambitions"
for this year's BWSC
Our team has two goals:
1) Glorify God
2) Do our best
We work every moment of every day to keep these two goals in our minds, as we take on the challenge of crossing Australia in a solar car.