Bridgestone Supporting Teams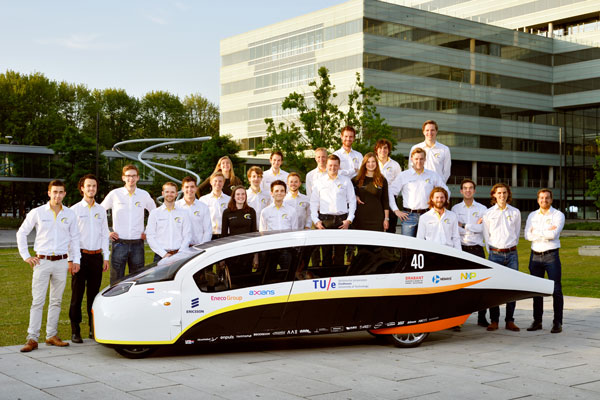 No.40
Bridgestone Supporting Teams

Netherlands / Solar Team Eindhoven
Eindhoven University of Technology
Solar Team Eindhoven, dreaming of sustainable mobility for everyone

Netherlands / Solar Team Eindhoven
Eindhoven University of Technology
Class
Cruiser Class
Team Name
Solar Team Eindhoven
University Name
Eindhoven University of Technology
Car Name
Stella Vie
Team
Establishment
2012
BWSC Entry
The 3rd time
Past results for solar car events
Bridgestone World Solar Challenge ・2015 (1st, Cruiser Class) ・2013 (1st, Cruiser Class)
Characteristics of team
Solar Team Eindhoven consists of 23 students from Eindhoven University of Technology. We work close together with a lot of companies in the high-tech region of Eindhoven. In 2013, we built Stella. This was the world's first solar-powered family car, and with this car we showed that it is possible to drive on solar-energy with 4 people. For 6 years now, we've held on to this vision and were given the opportunity to tell our story all around the world.
Team's "ambitions"
for this year's BWSC
Winning the Cruiser Class of the BWSC with a practical, efficient and appealing solar-powered family car. By winning the BWSC, we hope to inspire both society and the industry. Participating in the BWSC will be the ultimate test and reward for all the hard work we have done over the past year.