Passion for Bridgestone World Solar Challenge (BWSC)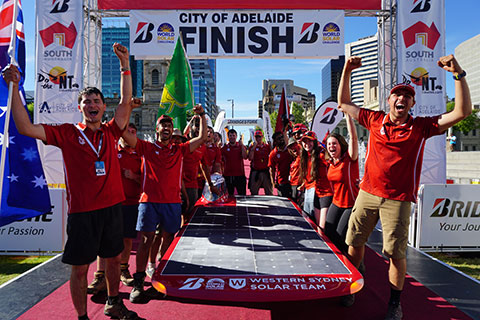 6th in the world!
Teams
Max & Saamiul
Western Sydney Solar Car Team
Western Sydney University
Australia
Tell us the BWSC story...
Two years, a lot of heart and guts, late nights, long days, endless stress, and finally, now we made it in 6th! And we did it in just one set of tires! Literally in the rain, literally in the sun with 40 degree heat, under all these conditions, our Bridgestone tires made it through without any problem!
How do you feel...
We finally finished the race! We have done better than any other team in the past from Western Sydney University. We're definitely stepping up, our skills are getting better, our cars are getting better, and top teams are getting scared. We're happy and I cannot find any other way to express this feeling! I will be participating in the next race and I'm already excited. Actually we started sketching out our next plans on napkins. We're that much excited for the race because we believe we can do even better!
What does "Dream bigger. Go farther." mean to you...
"Dream bigger. Go farther." is definitely to dream BIGGER and win, and go FARTHER than we've ever done before. It's crazy how much potential we have, and how good that actually can be when we put our minds together. What's happening now is the "Dream bigger. Go farther." story itself. I'm here with my team, we've done 3,000km together, no issues, and I feel just unbelievable to be here.What a journey!