Passion for Bridgestone World Solar Challenge (BWSC)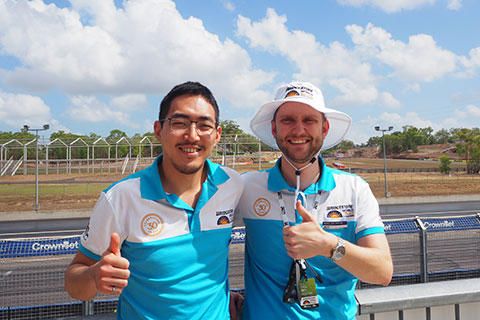 Once you know it, you become "life-time solar car family!"
Supporter
Bart & Paul
Volunteers
Why are you supporting the BWSC...
We are respectively alumni of Leuven University and the University of Toronto. We both took on the challenge in 2011, and in 2013, Paul was the project manager of Toronto and Bart was the volunteer observer for that team (on-road official to accompany the team). Currently we both have full time jobs, but take days off to participate as volunteers in BWSC as well as other solar car events.
Paul: "The 1st time, we couldn't make it to the goal but our challenge for the 2nd time, we finally made it! We spent 2 years to finally accomplish our goal, and we were so excited and relieved! There is no other feeling like that. My coming back is to help the guys coming here for the 1st time to get the same feeling, and to let them know how great they can be."
What is the allure of BWSC...
Once you're know it, you're a solar car person for a lifetime. You're part of the big international solar car family. The way we think, commit, drive and concentrate…we're very special. We all know that everyone who has taken part in this race has experienced the "extreme." And there's a certain kind of bond that bring us together. You see the same people every two years, and I keep coming back to see all of them again.