Passion for Bridgestone World Solar Challenge (BWSC)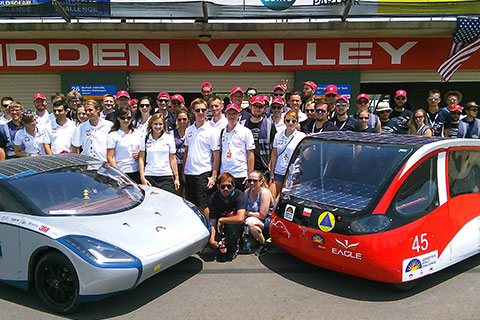 It was the biggest adventure of the lifetime for the whole team.
Teams
Katarzyna Zielińska
Lodz Solar Team
Lodz University of Technology
Poland
My most unforgettable memory regarding the BWSC...
Our team debuted in 2015 as the first team from Poland and Middle-East Europe in the history of the event. It would be hard to choose one most unforgettable memory from that time. The opportunity to represent our country and participate in such an unusual event is a thing to be proud of. It was the biggest adventure of the lifetime for the whole team - a completely new remoted land full of strange animals, completely different landscape, much higher temperatures and hundreds of people from all around the world, spending a month together, proving the world that solar energy is the future. All of this happens in a friendly atmosphere – although it is a race, every team tries to help each other. I remember when on the first day, one of the cars went into flames, other teams worked with them overnight and we could all drive till the finish line. Such a cooperation is really incredible.
We have to admit that the way to Australia was really difficult for us – as nobody did it before in Poland, we had to struggle for two years with technical limitations, not enough expertise and moment when we finally got to the start in Darwin was just breathtaking. We didn't have much opportunity to test the car before the race in Poland, so we were really glad to experience no breakdowns during the race, and relieved as well of course. And citizens on the way, saying they would love to drive such a car on a daily basis – this is the most rewarding thing to hear.