Passion for Bridgestone World Solar Challenge (BWSC)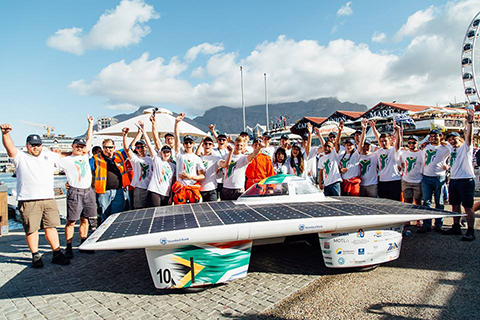 Raising public awareness on solar renewable energy sources in South Africa
Teams
Liané van den Bergh
NWU Solar Car Team
North West University
South Africa
My most unforgettable memory regarding the BWSC...
The NWU was one of two teams from South Africa that participated in the BWSC15, representing Africa for the first time at this event. The NWU solar team successfully crossed the continent and set the record as the first African team ever to complete the BWSC, finishing 11th overall. This achievement has made an indelible impression on our students and has raised public awareness on solar renewable energy sources in South Africa, with NWU leading from the front.
The NWU team experienced a late afternoon thunderstorm in the Outback, complete with thunder, lightning and dust, only to be greeted with a magnificent clear sunset and a rainbow had passed. This rainbow came to signify the day we took the lead on our competitors, which we maintained to the finish line.
Arriving at the finish line was a tired, but jubilant team with a many firsts under the belt: first time at BWSC, first time completing the event from start to finish, and first African team across the finish line. Everybody was much richer from the experience, with good memories that will last a lifetime.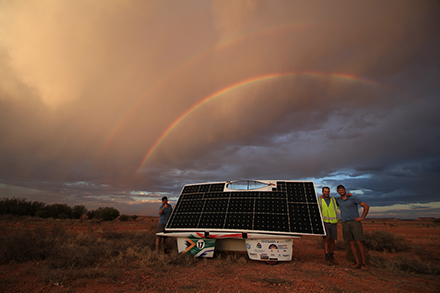 The BWSC means to me...
Being able to develop a product that can have a positive impact on the environment and change our current transport for the better. BWSC allows opportunities for students and staff of the Faculty of Engineering to use their expertise to build a state-of-the-art solar car and compete internationally, raising awareness on solar renewable energy sources in South Africa.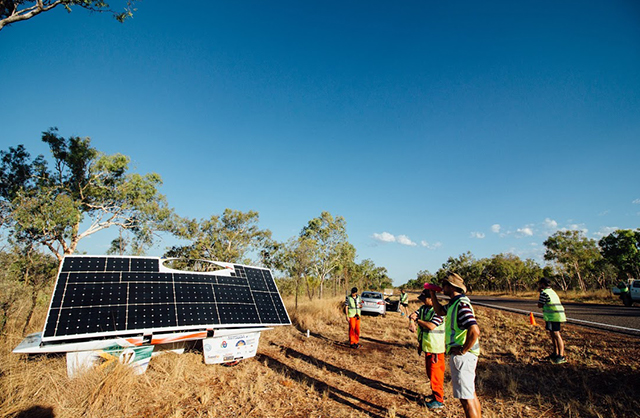 The allure of the BWSC is...
Being part of an international competition and competing amongst the top universities in this challenge.
BWSC offers so much opportunities to learn, to share experiences and to be a part of winning teams!