Passion for Bridgestone World Solar Challenge (BWSC)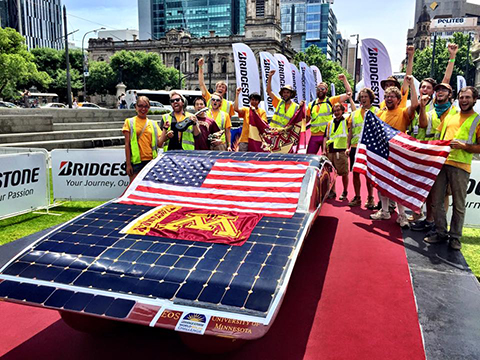 The incredibly rewarding challenge of a lifetime.
Teams
Jake Herbers
University of Minnesota Solar Vehicle Project
University of Minnesota
United States of America
My most unforgettable memory regarding the BWSC...
I will never forget finishing the BWSC13 with 8 minutes before the end of timing, and then finishing the BWSC15 with just 3 minutes to spare. It was absolutely nerve-wracking and thrilling to be driving our practical two-person solar vehicles as efficiently as possible on the final day of each event, not knowing whether or not we would make it to the finish line in Central Adelaide before the clock ran out on us.
The allure of the BWSC is...
We worked together as a cohesive team to overcome the complex challenges inherent to the Bridgestone World Solar Challenge. Those challenges are what sets the BWSC apart from any other event.
Developing a reliable and efficient solar vehicle is a unique engineering challenge, requiring the expertise of many interdisciplinary team members. The 3,000 km Stuart Highway is the most difficult environment imaginable to navigate, with biomes ranging from tropical savannah to barren outback desert, and conditions ranging from torrential rains, to willy-willys and brush fires.
The allure of the BWSC is overcoming those challenges with your team, while engaging in friendly competition and camaraderie with amazing people and teams from 6 different continents.
To me, BWSC means an incredibly rewarding challenge of a lifetime.