Products | By Tire Category | ON ROAD | ROAD SPORTS | BATTLAX RADIAL



In order to shorten lap time, the MotoGP development team has
thoroughly inspected each point for improvement. A newly developed compound based on
MotoGP technology (analyzing technology) has been used. Better traction and gripping
performance when cornering could be achieved by optimizing tire
construction, resulting in high turning performance and corner acceleration during corner launching.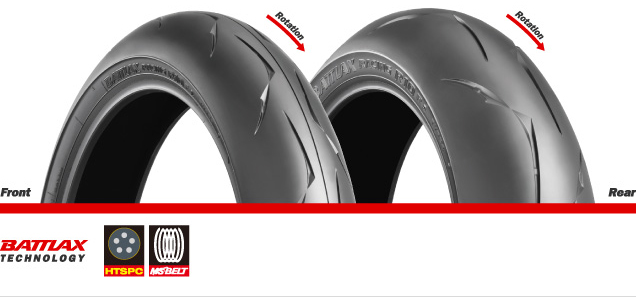 ● Customers who participate in various non-competitive and practice driving at racing tracks.
● Customers seeking to win production races.
● Customers who can properly adjust the vehicle setting, and temperature/air pressure of the tire.
Application of MotoGP's Technology
Improved Grip Performance

Responding to different riding styles.
Ground contact property optimization technology.
Bringing out the high grip performance of the compounds. Compound property optimization technology. The compound property control technology cultivated during tire development for MotoGP is used. Optimized compound property on the various road surfaces has been realized!
Improved Comfortable

Comfortable use and Ride handling in a wide range of riding environments.
Temperature range expansion technology.
Operating temperature range expansion technology developed through efforts to meet MotoGP's strict tire regulations is utilized. Responds to a wide temperature range. A comfortable ride under different conditions has been achieved.
Improved Wear Life

Long wear life demonstrated.
Wear control technology.
Wear resistance technology developed under the strict conditions of MotoGP. Long wear life has been demonstrated.
New Compound
The newly-developed compound based on
MotoGP's compound property optimization/temperature
range expansion technology is used.
Structure Optimization
The structure has been optimized based on
MotoGP's contact ground property optimization technology.
SIZE LIST
R10 Front
TIRE SIZE
COMPOUND
REC. RIM (inch)
APPR. RIM (inch)
OD (mm)
TW (mm)
120/70ZR17 M/C
(58W)
TL
TYPE2 Hard to Medium
3.50
3.00〜3.50
589
120
TYPE3 Medium
3.50
3.00〜3.50
602
120
TYPE4 Soft
R10 Rear
TIRE SIZE
COMPOUND
REC. RIM (inch)
APPR. RIM (inch)
OD (mm)
TW (mm)
190/55ZR 17M/C
(75W)
TL
TYPE2 Hard
TYPE3 Medium
6.00
5.50〜6.00
650
185
R10 EVO Rear
TIRE SIZE
COMPOUND
REC. RIM (inch)
APPR. RIM (inch)
OD (mm)
TW (mm)
180/55ZR 17M/C
(73W)
TL
TYPE2 Hard
5.50
5.50〜6.00
640
179
180/55ZR 17M/C
(73W)
TL
TYPE3 Medium
TYPE4 Soft
5.50
5.50〜6.00
640
181
Compound Selection Chart
Warnig
R10/R10 EVO product is a dry tire especially designed for track racing, and is designed and developed for the use in production races. Use care when riding in areas where ambient temperature conditions or road surface temperature/conditions are not appropriate for the compound of the tires installed, or when first starting out and the tires still have not reached their proper temperature, as sufficient grip performance will not be achieved and poor wear will occur under such conditions. Riding vehicles which are not properly adjusted or set up may result in instability caused by wobbling (vehicle oscillation) or serious accident. Modification or exposure to strong impact under low temperature conditions may cause the tire tread to crack.
CAUTION
Drive approximately 100miles to break-in the tires to the road surface.
・Tires cannot be used when the groove depth becomes less than 0.8mm.
・Store tires away from direct light, rain, water, and oil.
※If you have any questions, please contact the distributor.
Please consult your local Bridgestone representatives for product availability and legal conformity.